October 3, 2007
— In the United States, when NASA is done using a spacecraft for exploration, the agency offers the vehicle-turned-artifact to the Smithsonian Institution as the nation's appointed custodian of national treasures.

In Russia, more often than not, used space hardware of historical value is returned to the contractor that built the craft for use by the Russian space agency. And because those same contractors were at one time all part of the government under the Soviet Union, they are also today the curators for the former communist country's artifacts.

Of course, that is assuming the spacecraft to be returned actually returns intact from space.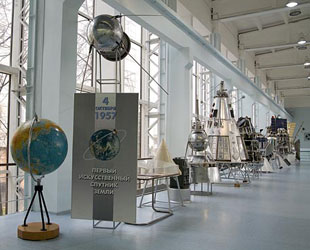 Sputnik 1 never made it to a museum for display, so the world has had to settle for mock-ups and replicas of the first satellite (as this countdown has illustrated). Most of these models have copied the silver sphere with its four whisker antennae extended, but have left the inside of the satellite to illustrations and imagination.

So where does one go to see how Sputnik worked? Why Russia, of course. But not just anywhere in Russia; to find the next best Sputnik to the real thing, you need to visit the museum at the S.P. Korolev Rocket and Space Corporation Energia outside of Moscow.

Formerly the design bureau of its namesake, Energia is the modern day incarnation of the division that designed and built Sputnik 1, among many other record-setting spacecraft. Its museum, which is open by appointment only, exhibits the Vostok capsules that launched the first man and woman into space, a full-scale mock-up of the world's first space station, and the "prototype" for the first earth artificial satellite.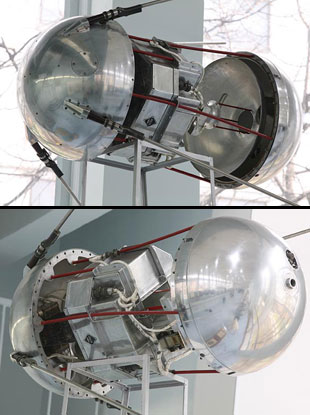 Displayed such that its inside instrumentation is visible, Sputnik earns its reputation as the "simplest satellite." With its outer shell and inner casing separated into their halves, visitors can get what is likely their first real look at the satellite's three major components: the ventilation fan, the power supply with its three silver-zinc batteries, and the radio transmitter that was responsible for the now famous beeps that changed the world.

Taking a closer look though, the simplest satellite is not so simple. Energia's display shows the circuit board for its radio transmitter and the temperature switches for its thermal control system, among its other finer details that made the world's first satellite a success.

Whether all its parts are original, or if some of its internal construction is the result of restoration efforts, Energia's display is one of the most complete Sputniks any where, filling the role of the original that never returned.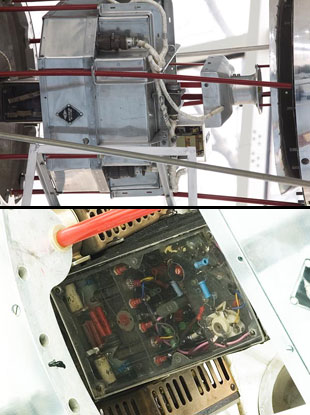 The guts of Sputnik: power supply and the radio transmitter's electrical circuits.
(Seiji Yoshimoto)
Learn more: