September 27, 2007
— Though the occasional authentic Sputnik has been sold, the six figure sale price has kept most of us Sputnik-less. Fortunately, there are numerous smaller Sputniks — both in physical size and price tag — that means just about anyone can add a little Sputnik to their personal space.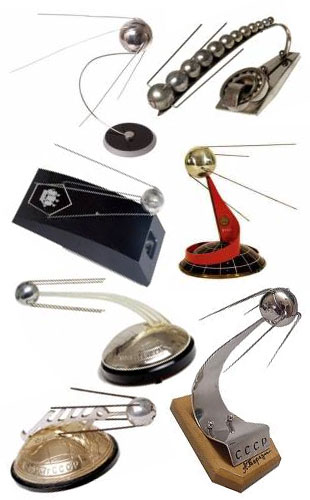 Vintage Sputnik models and music boxes
Partly political propaganda and partly souvenir keepsake, Sputnik's distinctive silver sphere graced a collection of everyday objects, from alarm clocks to music boxes that even replicated the satellite's familiar 'beep'. The designs varied but all of them shared a similar purpose: to convey the Soviet's technological superiority in space to Western consumers.

Fifty years later, the knickknacks have become kitschy- cool. A vintage chrome Sputnik with its four silver spikes attached and a working musical base can sell upwards of several hundred dollars. Modern replicas of the same can be found for far less (though they have also been passed off as the half-century old memento, thus caveat emptor).

New Sputnik models are also being manufactured today. Japanese toy companies recently packaged candy with a mini Sputnik replica, among other spacecraft models, in a twist on the old baseball card gum packs. The miniatures have since been repackaged for sale in the United States under the title "World Space Museum". The first set in the series, "The Sputnik Shock" includes a two-inch satellite orbiting a 1.25-inch Earth for just $10.

For less than that though, you can buy a different type of miniature commemorating the first man-made moon...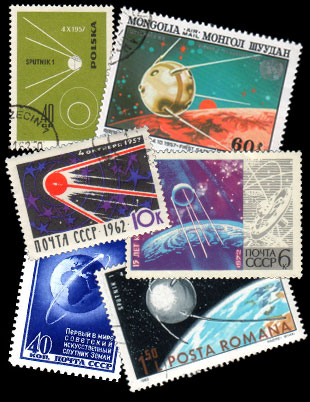 Commemorative Sputnik postage stamps
Postage stamps issued to mark the launch of Sputnik in 1957 and its subsequent anniversaries in the years since, were offered by many of the Eastern Bloc countries, including Mongolia, Poland and Romania, as well as the Soviet Union itself.

Saved by collectors and appreciated for their artwork, the vintage Sputnik stamps can often times be purchased for less than the price of some modern postage.

And while on the subject of recent stamps, Russia's Post issued a commemorative set of three stamps earlier this year celebrating the 50th anniversary of Sputnik including a stamp depicting the satellite.

Other postal authorities, including France and the United Nations have also recently designed stamps that serve to commemorate Sputnik's 50 years.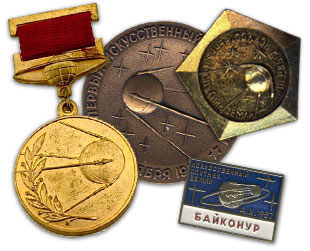 Soviet Sputnik medals, medallions and pins
Other Sputnik collectibles include Soviet era medals and medallions, which today can be found through speciality auctions and dealers. Particularly popular are the badges and lapel pins ("znachki") that were offered in celebration to those who worked to launch Sputnik and to the public.

For Sputnik's 50th birthday, Australia's Perth Mint created the "orbital coin", a legal tender coin designed such that its depiction of the world's first satellite can revolve about the Earth located at the center of the limited edition coin.

Learn more: