September 30, 2007
— Though Sputnik I fell out of orbit long ago, its familiar silver sphere and four antennae can still be seen around the globe. By some counts, there are nearly as many Sputnik replicas on display in museums today as there have been years since the original satellite was launched.

As a result of this week's 50th anniversary, the number of Sputnik replicas can be increased by at least one more...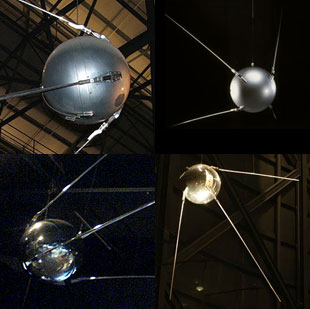 Sputniks in Sydney, London, Munich and Dayton, Ohio.
(red_tzar, Science Museum, Keks_JaNik, USAF)
Set to debut to the public on October 4, the same day as Sputnik entered orbit 50 years ago, the newest replica of the world's first satellite is also the newest addition to the Frontiers of Flight Museum in Dallas, Texas. The full size Sputnik model is suspended from the ceiling, hung near a replica of the Wright Flyer, the first powered aircraft, and above the real Apollo 7 spacecraft, which carried the first crew to Earth orbit during the U.S. moon landing program.

Overseeing the unveiling will be Apollo 7 astronaut Walt Cunningham, who is on the museum's board of advisors. Joining him for the October 4 festivities will be Jim Reilly, a fellow astronaut who most recently flew in June on the STS-117 mission to the International Space Station. He will present the Frontiers of Flight with a flag flown aboard space shuttle Atlantis. The evening event will be capped by a screening of Sputnik Mania, David Hoffman's feature length documentary about the satellite.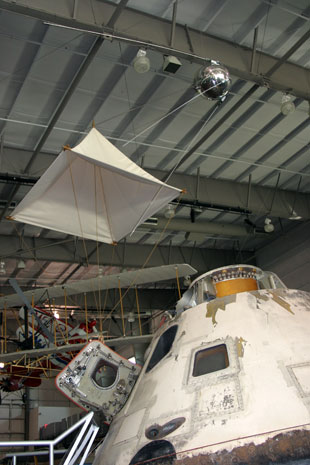 Sneak peek: Sputnik flying at the Frontiers of Flight
The Frontiers of Flight Museum commissioned Arizona Model Aircrafters to create their Sputnik. The Scottsdale company, a subsidiary of Digital Design LLC, has built replicas of air and space craft for use in movies and TV, as well as for museum displays, over the past 15 years.

According to Arizona Model Aircrafters, they used the "same polished spun aluminum technique originally employed by the Soviet space program" to create their replica of Sputnik for the Frontiers of Flight Museum.

Further, their model's dimensions are "an exact full sized reproduction of the world's first artificial satellite," which measured 23 inches in diameter with two pair of 8 and 13 foot antenna beams.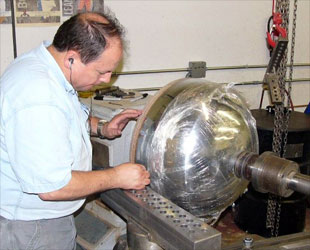 Arizona Model Aircrafters shaping Sputnik.
For the enthusiasts planning to build their own Sputniks, Arizona Model Aircrafters has posted to their website the design schematics for their Sputnik as a free download.

The company has also posted a spare Sputnik for sale on eBay, with a "buy it now" price of $8,500. The high bid at the time of publishing was at $530, which has yet to meet Arizona Model Aircrafters' reserve. The auction is set to come to a close on Monday, October 1 at 4:45 p.m. CDT.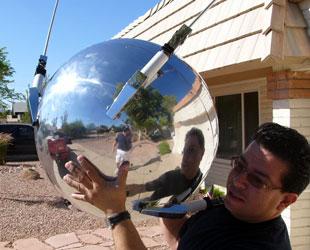 Arizona Model Aircrafters' Sputnik for sale on eBay.
Learn more: