September 26, 2007
— It was cataloged as lot 241, titled simply as "Sputnik".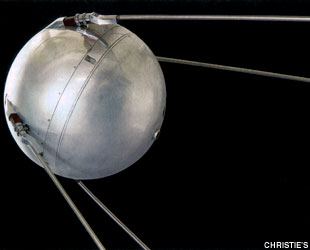 Offered for auction on May 9, 2001 by Christie's in New York, the nearly two-foot diameter silver sphere with its four extending antennae stood out from the sale's other artifacts, not just for its history but its size. On display at Christie's Rockefeller Center showroom, the Sputnik drew immediate attention.

According to its description, this Sputnik was identified as a "contemporary technological duplicate" – in other words, a working replica built at the time that the original Sputnik made its historic flight.

"The double-sphere construction, the external port for charging the battery and the internal ports for the zinc batteries and radio transmitters would indicate that its production had a more serious purpose than simple display," read Christie's catalog. "This version could be considered a working model and likely this contemporary donation to a Soviet institution was made in order to satisfy the Soviet public's insatiable curiosity as to what they had put in the sky."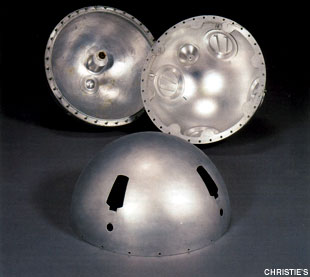 Sputnik showing double hemisphere construction.
If indeed this Sputnik was once complete, it was emptied of its instrumentation before reaching New York. Reddish oxidation near the interior electrical ports suggested "that a battery was installed at one time," Christie's explained.

Accompanied by a letter of authenticity from the director of the Russian Memorial Cosmonautics Museum, the pre- auction estimate appraised the Sputnik for $100,000 to $150,000. When the auction was over, the contemporary duplicate had elicited the third highest bid, $116,000. A Christie's press release identified the winner only as a US private buyer.

Which may have been where this Sputnik's story ended if it weren't for another release issued several months later from the opposite coast. The Museum of Flight in Seattle, Washington announced the acquisition of the Sputnik for display in a permanent exhibition dedicated to the world's first satellite.

"We know of no other early, Russian-made Sputniks of this quality available," said Ralph Bufano, then-president of the Museum of Flight. "It seems this is the closest one can come to seeing one of the most important objects in history." (Bufano was succeeded as president by former NASA shuttle astronaut Bonnie Dunbar in October 2005).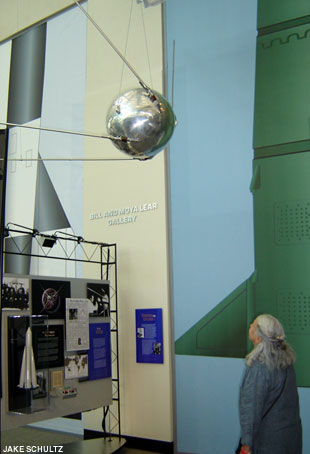 The grand-niece of aviator Waldo Waterman observes Sputnik at The Museum of Flight in Seattle, Washington.
The Sputnik still hangs at the Museum of Flight, now part of a new exhibition that opened in June, Space: Exploring the New Frontier.

Learn more: