Robert Pearlman
Editor

Posts: 29289
From: Houston, TX
Registered: Nov 1999

posted 01-29-2014 01:33 PM




---
K2 Communications and Giant Screen Films are producing "Journey to Space," coming to IMAX screens in 2015.
Regardless of where in the world you live, many of us have grown up watching numerous shuttle launches, preceding missions to the space station. With precision that rivaled a Swiss watch, the trips almost became commonplace. Now with the shuttles retired, we are left to look at the program from a historical perspective, as we try to understand just what it meant to the next chapter in space exploration.

That question will be explored in a joint K2/GSF production, "Journey to Space." The film will celebrate what these icons of space travel contributed to the global advancement of space exploration. The film's look to the future will explore how the shuttle helped provide the foundation for our next planetary space race, and humankind's first visit to Mars. The opening act for the trip to the Red Planet will be the capture and relocation of a nearby asteroid. For many of us, this will all happen during our lifetime.
STS-135 commander Chris Ferguson tweeted about "Journey to Space," which is filming at Johnson Space Center's Space Vehicle Mockup Facility:
Making "Journey to Space". Coming next year to an IMAX theater near you.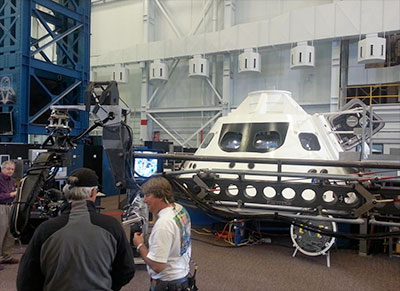 Robert Pearlman
Editor

Posts: 29289
From: Houston, TX
Registered: Nov 1999

posted 03-29-2014 08:43 PM




---
Chris Ferguson has a shared another behind-the-scenes photo from the filming of "Journey to Space," this time from inside the Space Shuttle Atlantis exhibit at the Kennedy Space Center Visitor Complex.