Dec. 12, 2014
— Having successfully splashed down after its first exploration flight test, NASA's Orion spacecraft is set to launch onto the big screen in a new large-format 3D movie premiering in February.

"Journey To Space," from K2 Communications and Giant Screen Films, tells the true exciting story of what the next chapter of space exploration holds for both the near- and long-term. "Journey To Space," presented by The Boeing Company and Toyota, showcases the plans by NASA and the larger space community to land astronauts on Mars.

"I don't know if I will ever get to walk on Mars, but I may already know some of those who will," a female voiceover says in the first trailer for "Journey To Mars," released on Thursday (Dec. 11).


"Journey to Space" movie trailer.
(K2 Films/Giant Screen Films)
The minute-long preview features footage filmed at NASA facilities and by astronauts in space, as well as computer animation of the Space Launch System heavy-lift rocket, Orion crew capsule and "Olympus," a commercial concept for an inflatable transit habitat for long-duration missions. The trailer also shows real NASA astronauts training in a mockup of the Orion space capsule and working inside an immersive Mars rover simulator at Johnson Space Center in Houston.

"No longer science fiction, a human mission to Mars is in the planning stages, and major steps are being taken to make it a reality within a generation," Bob Kresser, chief executive officer of K2 Films, said. "Our goal in making this film was to tie together the actual hardware being built with the tremendous planning under way that will make the next steps in space exploration the most far-reaching in our history."

In addition to looking forward, "Journey To Space" also looks back at the shuttle program and the role it played in assembling the International Space Station. A third of the movie is devoted to showing how the space shuttle helped us understand how to live and operate in space.

"We are completing a chapter of a journey that will never end," astronaut Chris Ferguson, the final commander of the space shuttle, is heard saying in the trailer in an audio clip taken from his 2011 STS-135 mission. Ferguson, who now leads crew and mission operations for Boeing's CST-100 commercial crew program, was on hand for the filming of "Journey To Space" and will be a prominent voice in the movie.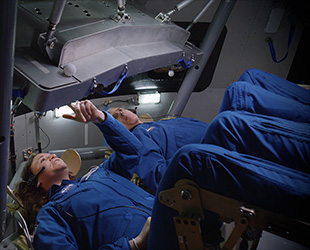 NASA astronauts are seen training in an Orion capsule mockup in "Journey To Space."
(K2 Films/Giant Screen Films)
Adding to the scenes filmed at the Johnson Space Center, the movie was also shot on location at NASA's Kennedy Space Center in Florida and at Bigelow Aerospace in Las Vegas where the Olympus module is being developed.

The National Air and Space Museum in Washington, D.C. has been selected to host the world premiere of "Journey To Space" in February. Additional venues across the U.S. and worldwide will follow, including screenings in 2D and 3D in Huntsville, Ala., Chicago, Illinois and St. Paul, Minn. The film is set to open in New York City in the summer of 2015.