August 28, 2014
— NASA has committed to building the "most powerful rocket ever built" and having it ready to fly by no later than November 2018.

The space agency on Wednesday (Aug. 27) stated that its next-generation heavy-lift rocket, called the Space Launch System (SLS), passed Key Decision Point-C (KDP-C), an engineering review that set the cost baseline and schedule for moving forward with the massive booster. NASA plans to use the SLS to launch astronauts beyond Earth orbit.

"We are on a journey of scientific and human exploration that leads to Mars," Charles Bolden, NASA Administrator, said. "And we are firmly committed to building the launch vehicle and other supporting systems that will take us on that journey."

That commitment carries with it a $7.021 billion cost for the development work that began in February and which will continue through the first launch, targeted for late 2017 but now with a better defined pledge to be ready to fly no later than 2018.

"The Space Launch System program has done exemplary work during the past three years to get us to this point," said William Gerstenmaier, associate administrator for the Human Exploration and Operations Mission Directorate at NASA Headquarters in Washington, DC. "We will keep the teams working toward a more ambitious readiness date, but will be ready no later than November 2018."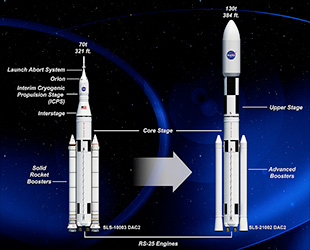 An artist rendering of the various configurations of NASA's Space Launch System (SLS).
(NASA)
For its first flight test, the SLS will be configured for a 77-ton (70-metric-ton) lift capacity and loft an uncrewed Orion spacecraft beyond low-Earth orbit — as currently planned, out past the moon and back. The 322-foot-tall (98 meters) rocket will be powered by four main engines and two solid rocket boosters repurposed from the retired space shuttle program.

In its proposed, most powerful configuration, the SLS will be able to provide a lift capability of 143 tons (130 metric tons), which could enable missions even farther into the solar system. NASA is planning for its first crewed Orion-SLS mission to send astronauts to a robotically-redirected asteroid in the vicinity of the moon, targeted for 2021.

The initial SLS configuration will generate 10 percent more thrust than did the Saturn V rocket that launched Apollo astronauts to the moon. The evolved, larger configuration will provide 20 percent more thrust than did the 1960s-era booster.

"We're committing today to a funding level and readiness date that will keep us on track to sending humans to Mars in the 2030s," said NASA Associate Administrator Robert Lightfoot, who oversaw the KDP-C review process. "This is the first time we have had a human spaceflight program make it to this decision gate that the agency had, and I'm very confident as the team moves moves forward for SLS readiness for the first flight."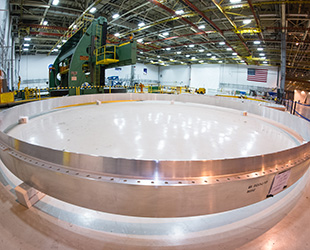 Flight ring for the Space Launch System's first mission, EM-1, as welded for the rocket's core stage at NASA's Michoud Assembly Facility in New Orleans. The ring is used to connect and provide stiffness between the core's domes and barrels.
(NASA/Boeing)
The SLS program delivered in April its first piece of flight hardware for the Orion capsule's maiden flight, Exploration Flight Test-1, slated for launch on top of a United Launch Alliance (ULA) Delta 4 Heavy rocket this December. The stage adapter to be flown on that test flight is of the same design that will be used aboard the SLS's first flight, called Exploration Mission-1 (EM-1).

"This is not just one mission," Lightfoot explained. "This is for us a start of a production model for how we are going develop the vehicles that we need to take folks beyond low-Earth orbit, moving from the 70-metric-ton vehicle for EM-1 to eventually a 130-metric-ton rocket that will carry folks to Mars."