Atlantis
Member

Posts: 107
From: Cullman, AL
Registered: Dec 2007

posted 06-25-2012 11:21 PM




---
The space shuttle Main Propulsion Test Article (MPTA-98) has been cleaned up and is on display behind Pathfinder at the U.S. Space & Rocket Center in Huntsville, Ala.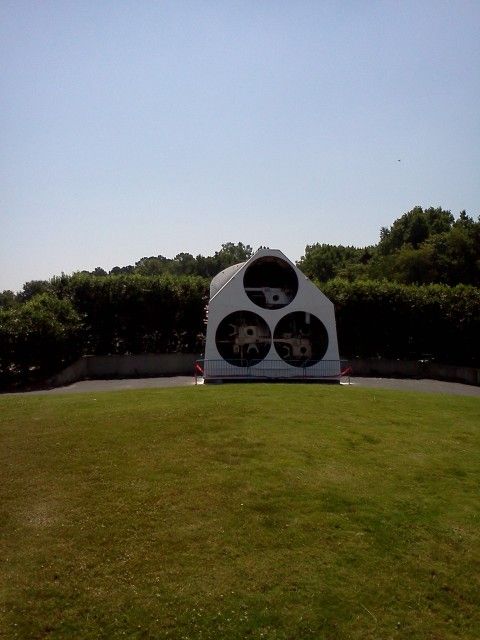 Jay Chladek
Member

Posts: 2211
From: Bellevue, NE, USA
Registered: Aug 2007

posted 06-26-2012 06:53 AM




---
I'm glad to see it got cleaned up and moved. Last time I saw MPTA-98 was a few days after the STS-135 launch as Scott Phillips gave me an invitation to visit him at Marshall and I took him up on it. The boattail was sitting in storage next to the J-2 engine test stand.

I would love to see this thing go to a museum somewhere, although I don't know how exactly one would display just a boat tail (maybe stick three mocked up SSMEs in it perhaps). As I recall, at one time MPTA-98 was temporarily mounted to a full size Shuttle-C HLLV mockup when Rockwell was making a pitch to NASA to build it. I'll bet that was an impressive sight.
Robert Pearlman
Editor

Posts: 27328
From: Houston, TX
Registered: Nov 1999

posted 06-26-2012 07:21 AM




---
See this thread for photos of MPTA-98 mounted to the Shuttle-C mockup at Marshall.

The 'boattail' is the first of several new shuttle related large artifacts that will be going on display around the Pathfinder plaza at the U.S. Space & Rocket Center. Soon to join it will be the T-38 that is currently at Aviation Challenge and a Shuttle Training Aircraft (STA).