In one giant leap, mankind traveled to the Moon. With one small step, an American astronaut made history.
Neil Armstrong and his Apollo 11 crew mate, Edwin "Buzz" Aldrin became the first men to walk on the Moon in July 1969.
Some mementos of that historic landmark remain, though few are displayed to the public, said Chris Orwoll, Cosmosphere president and CEO.
Four such artifacts, Armstrong and Aldrin's space gloves, are on exhibit in the Apollo Gallery of the Kansas Cosmosphere and Space Center's Hall of Space Museum.
But not for long, said Meredith Miller, the museum's Collections Manager.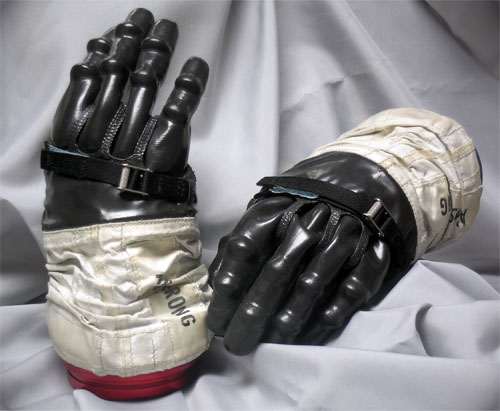 The gloves, on loan from the National Air and Space Museum of the Smithsonian Institution, will be returned to the Smithsonian when the loan expires at the end of the year. The gloves will likely go off display Dec. 10.
"Not only were the gloves worn by two of the most well-known astronauts in history," said Jim Remar, Cosmosphere senior vice president, "the astronauts wore them while making man's first steps on the surface of the Moon."
The pressure gloves, made of neoprene rubber, were made from casts of Armstrong and Aldrin's hands, allowing for a perfect fit, Miller said. They are also marked with the astronauts' names.
"The gloves literally fit 'like a glove,'" Miller said. "Their purpose was to maximize movement of the wrist and enhance grip control while also protecting the pressurization of the space suit."
Though important to the astronauts' safety, the gloves were also fragile. A small tear in either pressure glove could result in decompression of the suit and possibly death. Work gloves were worn over the pressure gloves for protection.
Because neoprene rubber disintegrates at a faster rate than most materials found in space artifacts, the gloves will be preserved in the Smithsonian's vaults once returned.
The Cosmosphere earned the right to display the gloves when named the first affiliate of the Smithsonian Institution's National Air and Space Museum in December 1998. The gloves have been on display since June 1999.