The Asteroid Explorer Hayabusa 2 is the successor to Hayabusa (MUSES-C). Its mission is to explore one of the C-type asteroids in the universe, retrieve materials and bring them to Earth. The rock of C-type asteroids is considered to contain organic matter and water. Hayabusa 2 explores the mystery of the origin of the sea water and the life on the earth in addition to the mystery of the earth's formation.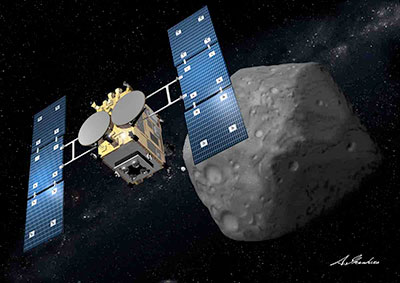 While Hayabusa recorded a number of world's first achievements, Hayabusa 2 will enhance the reliability of exploration technologies. At the same time, Hayabusa 2 will challenge to obtain new technologies such as creation of artificial craters, high-speed communications in deep space, and new observation instruments.
In the current plan, the launch window for Hayabusa 2 is in 2014. With this schedule, Hayabusa 2 would reach the asteroid in the middle of 2018, and return to the Earth at the end of 2020.
Target body to be explored
As of now, the candidate target asteroid of Hayabusa 2 is called 1999 JU3. Asteroid 1999 JU3 is one of the Near Earth Objects (NEO) that come close to the Earth's orbit. This asteroid is about 900 meters in size and its rotation period is about 7.6 hours. The albedo of the surface is low, estimated about 0.06, and its approximate shape and spin axis inclination have been estimated.
While the asteroid Itokawa explored by Hayabusa is an S-type asteroid, 1999 JU3 is classified as a C-type asteroid. An asteroid is considered to have information about the birth of the solar system and its later evolution.
For a large celestial body such as Earth, its original materials were melted once, and consequently there is no way to reach the history before melting. On the other hand, most of hundreds of thousands asteroids and comets which we found at this point preserve history of the place and era of their birth within the solar system.
Exploring such celestial bodies brings us an opportunity to know how the solar system was born and formed, and how the original materials of life on Earth were created and evolved in space.
Mission
After arriving at the target asteroid, Hayabusa 2 will observe using a variety of remote-sensing instruments, small lander and rover.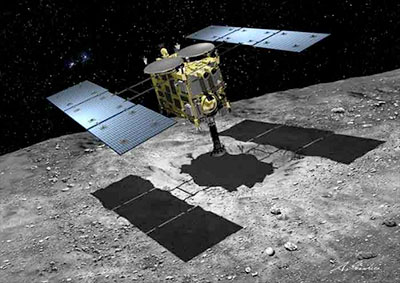 Hayabusa 2 is planning to carry the German/French lander on board through the international cooperation as well as Japanese rovers. They will be released from Hayabusa 2 and will land on the asteroid, then perform observations of the surface of asteroid in detail. The Hayabusa 2 will then touch down and collect samples from asteroid surface.
Furthermore, an impactor which is newly developed, Hayabusa 2 will create an artificial crater by the impactor and will collect samples from the crater, which means that we can obtain the subsurface material of asteroid.