December 5, 2020
— A Japanese probe has returned asteroid samples to Earth, dropping its cache over Australia before heading out to study more space rocks.

The Hayabusa2 reentry capsule descended to a soft landing within the Woomera Range Complex in the South Australian outback on Saturday (Dec. 5), completing the primary goal of the Japan Aerospace Exploration Agency's (JAXA) second asteroid sample return mission.

The touchdown, at about 12:47 p.m. EST (1747 GMT; 2:47 a.m. Japan Standard Time or 4:17 a.m. local Australian time on Dec. 6), came six years and three days after the probe was launched from Japan in 2014. It also marked the beginning of an extended mission, which will see the Hayabusa2 spacecraft conduct a fly-by of another asteroid in 2026 and then rendezvous with a third rocky body in 2031.

Waiting to be studied inside the 16-inch (40-cm) reentry capsule are small rocks and soil from two sample collections from the near-Earth asteroid Ryugu, including material raised from under the surface of the small, primitive world. The dual landings on Ryugu was one of several firsts achieved by the Hayabusa2 mission, which sought to improve our understanding of how the solar system formed and evolved.

Return to sender

After a journey of almost 3.3 billion miles (5.24 billion km) — including a 180-million-mile (290-million-km) return trip from Ryugu — Hayabusa2 fulfilled its sample return mission by first jettisoning its reentry capsule at 12:30 a.m. EST on Saturday (0530 GMT or 2:30 p.m. Japan Standard Time).

The capsule slowly separated from the spacecraft 140,000 miles (220,000 km) from Earth, while spinning like a top to stabilize its approach into the atmosphere. Picking up speed as it reentered, the capsule plunged to the ground at 27,000 miles per hour (12 km/s).

"Just spotted Hayabusa2 from ISS! Unfortunately not bright enough for handheld camera, but enjoyed watching capsule!" JAXA astronaut Soichi Noguchi reported from on the International Space Station about 25 minutes before the reentry.

At about 6 miles (10 km) above the surface, a parachute deployed, slowing the capsule's descent until it made a soft landing in the Woomera desert.

The search then began to retrieve the capsule and its asteroid samples. The parachute was covered by a radar-reflective cloth and the capsule was equipped with a radio beacon to assist the recovery teams in locating the precise point of touchdown within a 40 square mile (100 sq. km) area.

"As a result of the helicopter search, we found a capsule in the planned landing area!" JAXA reported two hours after the touchdown.

The capsule was then flown by helicopter to a temporary facility in Woomera, where its contents were to be carefully transferred into special containers for the trip to Japan. JAXA's plan was to have the samples inside a pristine, vacuum environment to begin two years of study within 100 hours of the capsule landing on Earth.

JAXA will provide NASA with some of the Ryugu material in exchange for samples from the asteroid Bennu to be returned by the U.S. OSIRIS-ReX mission in 2023.

"Today marks an exciting and historic event as precious samples from asteroid Ryugu have been brought to Earth by the Japan Aerospace Exploration Agency's (JAXA) Hayabusa2 mission. This is an extremely challenging endeavor and we commend and congratulate Japan on being not only the first nation that has been able to carry out a successful asteroid retrieval mission, but to now have done so for the second time!" Thomas Zurbuchen, associate administrator for science at NASA Headquarters, said in a statement.

Second mission, seven firsts

The Hayabusa2 mission was JAXA's second to return samples from an asteroid. The original Hayabusa became the first probe to return material from the surface of a near-Earth object in 2010. Despite problems with the spacecraft, including an unplanned impact with the asteroid Itokawa, Hayabusa brought back 1,500 tiny grains of rocky material for study.

Building off the lessons learned from Hayabusa ("Peregrine Falcon" in Japanese), Hayabusa2 was launched on Dec. 3, 2014, and swung by Earth for a gravity assist one year later before arriving at the diamond-shaped Ryugu on June 27, 2018.

The spacecraft deployed four small rovers (named MINERVA and MASCOT) to collect data about Ryugu and touched down on Feb. 22 and July 11, 2019, to collect samples. Between the first and second landings, Hayabusa2 deployed an impactor to stir up material from underneath the asteroid's surface.

Hayabusa2 departed Ryugu on Nov. 13, 2019, beginning a year-long journey back to Earth.

Over the span of its six-year mission, Hayabusa2 set seven firsts, according to JAXA. In addition to becoming the first probe to conduct multiple landings on a celestial body, it was also the first to deploy mobile and multiple robots on an asteroid, as well as establish the smallest constellation of objects around a minor planet.

The mission was the first to achieve targeted landings within 2 feet (60 cm) of its planned touchdowns and was the first to form and observe the creation of a crater in order to gain access to subsurface material.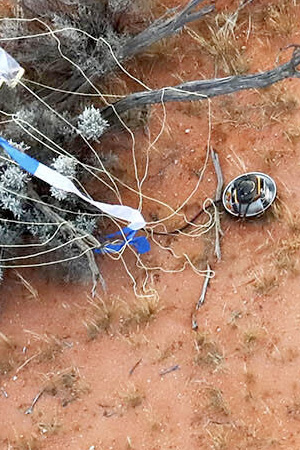 JAXA's Hyabusa2 reentry capsule and parachute are seen where they landed within the Woomera Range Complex in the Australian outback on Saturday, Dec. 5, 2020. The capsule contains samples from the asteroid Ryugu. (JAXA)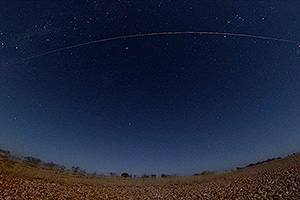 JAXA's Hayabusa2 reentry capsule carrying samples from asteroid Ryugu is seen streaking above the Australian outback on its way a soft landing on Saturday, Dec. 5, 2020 (Dec. 6 local). (JAXA)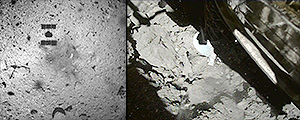 Images from JAXA's Hayabusa2 landings and sample collection on asteroid Ryugu: Feb. 22, 2019 (at left) and July 11, 2019. (JAXA)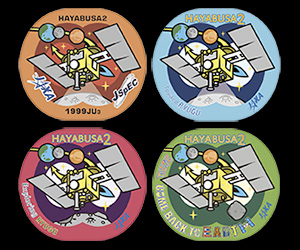 JAXA's Hayabusa2 asteroid sample return mission patches. (JAXA)