Soyuz MS-07 commander Anton Shkaplerov of Roscosmos, together with flight engineers Scott Tingle of NASA and Norishige Kanai of the Japan Aerospace Exploration Agency (JAXA), are set to launch to the International Space Station at 1:21 a.m. CST (0721 GMT or 1:21 p.m. Kazakh local) on Sunday (Dec. 17) from the Baikonur Cosmodrome.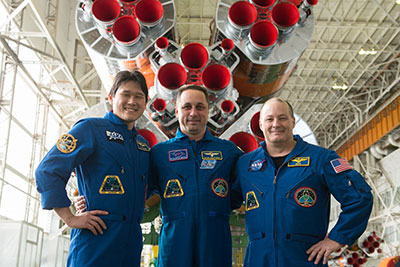 Credit: GCTC/Andrey Shelepin
They will dock the Soyuz to the station's Rassvet module at 2:42 a.m CST (0842 GMT) on Tuesday (Dec. 19), after a two-day rendezvous.
About two hours later, the hatches between the Soyuz and station will open and Shkaplerov, Kanai and Tingle will be greeted by Expedition 54 commander Alexander Misurkin of Roscosmos, with Mark Vende Hei and Joe Acaba, both of NASA and both flight engineers.
Shkaplerov, Kanai and Tingle will stay on the station through April.
On Friday (Dec. 15), the Soyuz-FG rocket was transported to the pad by train and erected into position.