December 17, 2017
— Three new crew members for the International Space Station are on their way to the orbiting outpost, where they will begin their six month expedition by ringing in the New Year circling Earth.

Russian cosmonaut Anton Shkaplerov, Norishige "Neemo" Kanai of the Japan Aerospace Exploration Agency (JAXA) and astronaut Scott "Maker" Tingle of NASA launched on board Russia's Soyuz MS-07 spacecraft from the Baikonur Cosmodrome on Sunday (Dec. 17). Their Soyuz FG rocket lifted off from Pad 1/5, also known as "Gagarin's Start," at 2:21 a.m. EST (0721 GMT or 1:21 p.m. local Kazakh time).

About 8 minutes and 45 seconds after leaving the ground, the Soyuz entered Earth orbit, beginning a two day journey to the station. Shkaplerov, Kanai and Tingle are scheduled to dock the Soyuz to Russia's Rassvet module on Tuesday (Dec. 19) at 3:43 a.m. EST (0843 GMT).

Once on board, the three Soyuz MS-07 crewmates will join the station's 54th contingent, already underway. Expedition 54 commander Alexander Misurkin and his flight engineers Joe Acaba and Mark Vande Hei have been on the station since Sept. 12.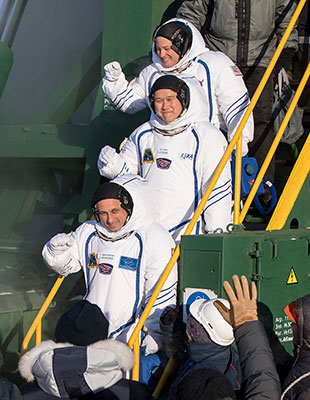 Soyuz MS-07 crew of Anton Shkaplerov of Roscosmos, Norishige Kanai of JAXA and Scott Tingle of NASA are seen prior to boarding their Soyuz MS-07 spacecraft on Dec. 17, 2017.
(NASA/Joel Kowsky)
About four hours after the Soyuz MS-07 launch, a SpaceX Dragon cargo spacecraft launched on Friday is scheduled to arrive at the space station, bringing with it supplies and science experiments, as well as decorations and gifts, for the Expedition 54 crew.

"We [already] have a Christmas tree aboard and there is a new Christmas tree arriving soon," said Shkaplerov during a press conference on Saturday. "We have packages and gifts from our families and friends. And packages on board the ISS labeled to open on Dec. 25 for U.S. crew members and Dec. 31 for us from Russia."

On New Year's Day, as is the case every day, the station will circle Earth 16 times, leading to multiple opportunities for the crew to celebrate the arrival of 2018.

"We start at about 10 o'clock in the morning when we pass the first spot [on Earth] where they celebrate New Year's, around Easter Island," said Shkaplerov. "We have Neemo on our crew, so we are going to celebrate New Year's for Japan time. Then in Russia, when we get to Europe, using Greenwich time, as we use for our time on the station."

"Then we'll wake up early in the morning and congratulate our crewmates from the United States," he told reporters.

The New Year will bring with it a busy several months for Shkaplerov, Kanai and Tingle, with extravehicular activities (EVAs, or spacewalks) and experiments.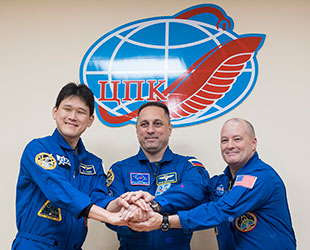 The Soyuz MS-07 crew is seen in quarantine behind glass during a crew press conference on Dec. 16, 2017.
(NASA/Joel Kowsky)
"Five U.S. EVAs and a Russian EVA planned during your 168 days," said Kirk Shireman, International Space Station (ISS) program manager, addressing the Soyuz crew during a pre-launch meeting on Saturday. "You also have a very, very robust scientific program; over 329 investigations, 85 of which are new and never have been performed on ISS."

"We also hope that you'll spend some time and enjoy the best view in this part of the solar system and look down on this beautiful planet that we live in," he added.

Shkaplerov, 45, is making is third trip to the space station. He previously logged just over a year — 365 days and 13 minutes — on two missions: Expedition 29/30 in 2012 and Expedition 42/43 in 2015.

Kanai, 42, and Tingle, 52, are on their first space missions. Kanai is Japan's 11th astronaut to fly in space since 1992. Tingle is the seventh member (out of nine) of NASA's 20th group of astronauts to fly since their selection in 2009.

"On the brand new side of it, there is a part of it that makes me a bit anxious," Tingle said prior to the launch. "As a first flight, there's a large part of it that's the first time I am ever going to see this, and I'm very excited."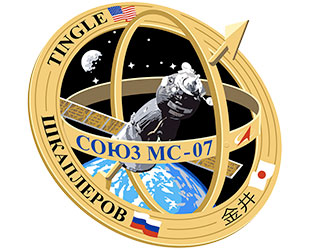 Soyuz MS-07 crew patch.
(Roscosmos/Spacepatches.nl)
Shkaplerov, Kanai and Tingle were originally slated to stay on the station until April, but after a schedule adjustment, they are to return to Earth in early June. They will serve on the Expedition 54 crew through late February, when they'll become the first members of the Expedition 55 crew with Shkaplerov in command.

Soyuz MS-07 is the 53rd Soyuz to fly to the International Space Station since 2000 and 136th since the first flight of Russia's Soyuz-class of spacecraft in 1967.