December 14, 2017
— Three International Space Station crewmembers from Russia, Italy and the United States are back on Earth, having landed after five months aboard the orbiting outpost.

Russian cosmonaut Sergey Ryazanskiy, Paolo Nespoli of the European Space Agency (ESA) and astronaut Randy Bresnik of NASA touched down on Russia's Soyuz MS-05 spacecraft on Thursday (Dec. 14), landing on the steppe of Kazakhstan southeast of the town of Dzhezkazgan at 3:37 a.m. EST (0837 GMT; 2:37 p.m. local Kazakh time).

Russian recovery forces, along with personnel from both NASA and ESA, were ready for the crew at the landing site and helped Ryazanskiy, Nespoli and Bresnik emerge from the small Soyuz descent capsule. The three were provided brief medical checks as they began readjusting to gravity.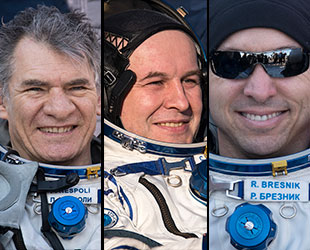 Soyuz MS-05 crewmembers Sergey Ryazanskiy, Paolo Nespoli and Randy Bresnik are seen after landing on Dec. 14.
(NASA/Bill Ingalls)
Ryazanskiy's, Nespoli's and Bresnik's journey home began about three hours prior to their landing with the undocking of their Soyuz MS-05 spacecraft from the Rassvet module at 12:14 a.m. EST (0514 GMT). Their separation marked an end to Expedition 53, the station's 53rd crewed mission since November 2000.

"We've had an amazing expedition," said Bresnik during a brief a change of command ceremony on Wednesday. "On a personal note, it's been an honor and a privilege to serve with you guys."

Cosmonaut Alexander Misurkin of Roscosmos and NASA astronauts Mark Vende Hei and Joe Acaba, who arrived at the space station on Sept. 12 and served as members of the Expedition 53 crew under Bresnik's command, remain on board the outpost.

"Expedition 53 is finishing up, leaving ISS in a better state than it was, but guess what? It's going to be turned over to you guys and your eminently capable hands," said Bresnik to Misurkin, Vande Hei and Acaba. "It is going to go to new heights and I look forward to seeing that."

"I look forward to the Expedition 53 reunion — in 20 years, on Mars," Bresnik added with a smile.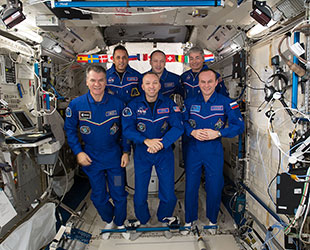 Paolo Nespoli, Randy Bresnik and Sergey Ryazanskiy (front) with Joe Acaba, Alexander Misurkin and Mark Vande Hei on board the International Space Station on Nov. 12, 2017.
(NASA)
Three more Expedition 54 members — Anton Shkaplerov of Roscosmos, Scott Tingle of NASA and Norishige Kanai of the Japan Aerospace Exploration Agency (JAXA) — are scheduled to launch to the space station on Sunday (Dec. 17) and arrive two days later.

Ryazanskiy, Nespoli and Bresnik's landing concludes their 139 days in space since they launched together from the Baikonur Cosmodrome in Kazakhstan on July 28. During their shared time in orbit, the three crewmates took part in and supported hundreds of investigations in the physical and life sciences.

As Expedition 52 crew members, Ryazanskiy, Nespoli and Bresnik were in place to see the Aug. 21 "Great American Solar Eclipse," which spanned the continental U.S. on the planet below. The crew documented the cosmic alignment, sending back imagery of the moon's umbra moving across the Earth's horizon.

Ryazanskiy performed one extravehicular activity (EVA, or spacewalk), the fourth of his cosmonaut career, to deploy nanosatellites in celebration of the 60th anniversary of the launch of the first Sputnik satellite and to collect samples from outside the space station.

The grandson of a Soviet-era rocket scientist, Ryazanskiy, 43, now has two spaceflights to his record, including a 166 day stay on the space station in 2014. He has now logged 306 days off the planet.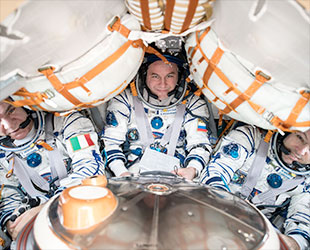 Paolo Nespoli, Sergey Ryazanskiy and Randy Bresnik are seen on Soyuz MS-05 during a Dec. 7, 2017 pre-landing test.
(NASA)
Bresnik conducted three EVAs, bringing his career total to five, helping to swap out a latching end effector "hand" on the Canadarm2 robotic arm and install new cameras.

Bresnik, 50, is the grandson of Amelia Earhart's authorized photographer. A veteran of a space shuttle Atlantis mission in 2009 (STS-129), he's now spent 150 days in Earth orbit.

Nespoli, 60, is to date the oldest professional astronaut to reside aboard the space station. In the course of his "Vita" (Italian for "Life," and the acronym for Vitality, Innovation, Technology and Ability) ESA mission, he spoke with Pope Francis and was the first to contribute content to Wikipedia from space.

Nespoli has now logged 313 days in space over his three missions, including a 2007 flight aboard shuttle Discovery (STS-120) and a prior expedition aboard the space station.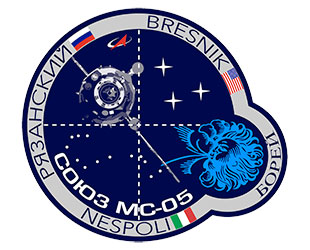 Soyuz MS-05 crew patch.
(Roscosmos/Spacepatches.nl)
Now back on Earth, the three Soyuz MS-05 crewmates will return to their respective agencies after a brief welcome ceremony in the Kazakh town of Karaganda. Ryazanskiy will be flown back to Star City, outside of Moscow; Bresnik and Nespoli will return on a NASA jet to Johnson Space Center in Houston.

Soyuz MS-05 was the 51st Soyuz to fly to the International Space Station. It traveled a total of 58.8 million miles (94.7 million kilometers) over the course of 2,224 orbits of Earth.