September 12, 2017
— A Russian cosmonaut and two American astronauts have left Earth for a five month stay on the International Space Station, lifting off from the same launch pad where the Space Age began almost 60 years ago.

Alexander Misurkin of Russia's space agency Roscosmos and his NASA crewmates Mark Vande Hei and Joe Acaba lifted off aboard the Soyuz MS-06 spacecraft atop a Soyuz FG rocket from Site 1 at the Baikonur Cosmodrome, the same pad used to launch Sputnik, the world's first artificial satellite, on Oct. 4, 1957.

"Sixty years ago, we [all] became a space man instead of a homo sapien," said Misurkin, at a preflight press briefing, adding that his crew's "zero-g indicator" is a small model of the Sputnik satellite.

Misurkin, Vande Hei and Acaba lifted off on Tuesday (Sep. 12) at 5:17 p.m. EDT (2117 GMT; 3:17 a.m. Sept. 13 local Kazakhstan time) on a four-orbit rendezvous to the space station. The Soyuz is slated to dock to the outpost's Poisk module at 10:57 p.m EDT (0257 GMT).

Update: Soyuz MS-06 docked to the station at 10:55 p.m. EDT (0255 GMT).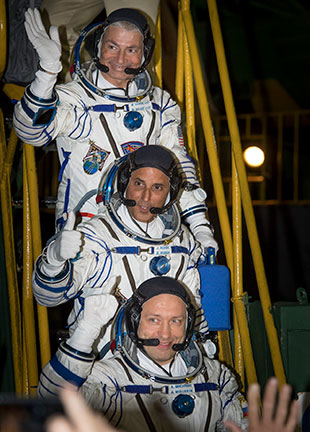 The Soyuz MS-06 crew of Alexander Misurkin with Roscosmos and astronauts Joe Acaba and Mark Vande Hei of NASA are seen prior to boarding Soyuz MS-06 on Sept. 12, 2017.
(NASA/Bill Ingalls)
Once on board the orbiting laboratory, Misurkin, Vande Hei and Acaba will be welcomed by Expedition 53 commander Randy Bresnik of NASA and flight engineers Paolo Nespoli of the European Space Agency and Sergey Ryazanskiy of Roscosmos, who arrived at the space station in late July.

Misurkin, Vande Hei and Acaba will serve as Expedition 53 flight engineers until mid-December, when command of the station will be handed to Misurkin, as Bresnik, Ryazanskiy and Nespoli leave for Earth. Three more crew members for Expedition 54 – Anton Shkaplerov of Roscosmos, NASA's Scott Tingle and Norishige Kanai of the Japan Aerospace Exploration Agency (JAXA) – will arrive just before the new year.

The Expedition 53/54 crew members will continue work on hundreds of biology, biotechnology, physical science and Earth science experiments. They'll also oversee the arrival and departure of cargo vehicles and conduct spacewalks as needed to maintain the space station.

Misurkin, Vande Hei and Acaba are scheduled to stay on board the space station through February.

Acaba's addition to the Soyuz MS-06 crew came relatively late, just six months ago, as a result of two decisions. First, Roscosmos reduced its station complement from three to two cosmonauts, seeking to reduce costs until its new lab module is ready to launch in 2018, opening seats on board the Soyuz.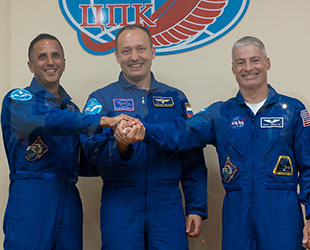 The Soyuz MS-06 crew is seen in quarantine behind glass during a crew press conference on Sept. 11, 2017.
(NASA/Bill Ingalls)
Separately, Boeing was awarded Soyuz seats as part of a legal settlement with RSC Energia, the Russian aerospace contractor that builds the vehicle for Roscosmos. Boeing subsequently reached an agreement with NASA to provide the seats to the space agency, creating the opportunity for Acaba to join the MS-06 crew.

Acaba's presence on the crew marks the first time since 2010 that two NASA astronauts have launched on a Soyuz together. He also brings the crew for the U.S. side (USOS) of the station to four members, increasing the time that can be spent on science research.

"Our main job on orbit is to conduct science, so having an extra set of hands up there is going to be beneficial. We also have more hands up there to help maintain the space station, our home and our laboratory," said Acaba.

"It gives the ground more flexibility on who they assign for certain tasks," he said. "We are just going to get a lot more done."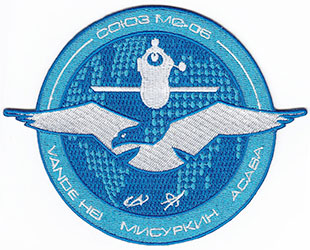 Soyuz MS-06 crew patch.
(Roscosmos/Spacepatches.nl)
Acaba was able to be ready for flight due to his previous spaceflight experience. A high school teacher with degrees in education and geology before being chosen as a NASA astronaut in 2004, he first flew on the space shuttle to help build the station in 2009. He then returned to the complex for a 125-day stay in 2012, as a part of the Expedition 31 and 32 crews.

Acaba's fellow NASA crewmate, Vande Hei, is making his first spaceflight. Like Acaba, Vande Hei also has teaching experience as a former assistant physics professor at the U.S. Military Academy in West Point. Before becoming an astronaut in 2009, Vande Hei was hired at Johnson Space Center as a capsule communicator, or capcom, supporting the space station from Mission Control in Houston.

Misurkin, a former lieutenant colonel in the Russian Armed Forces, became a cosmonaut in 2006. He is a veteran a prior 166-day stay on the International Space Station as an flight engineer during Expeditions 35 and 36 in 2013.

Soyuz MS-06 is the 52nd Soyuz to fly to the International Space Station since 2000 and 135th since the first flight of Russia's Soyuz-class of spacecraft in 1967.