After months of patiently snoring away in its storage bag, Robonaut 2 — the first dexterous humanoid robot in space — finally got its wakeup call on Monday (Aug 22, 2011).
R2, as the robot is called, was delivered to the International Space Station on STS-133 — the last flight of space shuttle Discovery — in February, but due to the astronaut's busy schedule of shuttle missions and science experiments, the station crew hadn't been able to do more than unpack it. Until now.
On Monday, mission specialists Mike Fossum and Satoshi Furukawa hooked R2 up inside the Destiny laboratory, and teams on the ground sent power to the robot for the first time in space.
"Those electrons feel GOOD!" R2 tweeted from its Twitter account. R2, with help from its team on the ground, has been tweeting even in its sleep for more than a year.
The power was left flowing to the robot more than two hours while Fossum and Furukawa went on with their other activities. This gave engineers on the ground a chance to verify that all the wiring and connections inside the robot made it to space intact, and to see how they would work in the station's microgravity — the way heat builds up and dissipates at the station is hard to replicate on the ground. In other words, R2 needed a checkup before getting the go ahead for exercise (or any movement at all).
The diagnosis was positive.
"Everything came alive," said Nic Radford, Robonaut deputy project manager. "We started getting video out of Robonaut's eyes. Everything worked exactly as we expected it to. It was a very, very exciting time."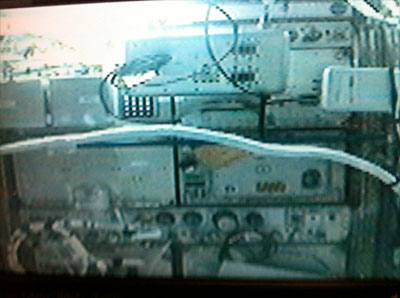 Above: "This is what I see right now. Sure wish I could move my head and look around," tweeted Robonaut.
That clears the way for engineers to begin leading R2 through its first movements on orbit. The station crew is scheduled to set it up again on Sept. 1, so that commands to move its arms and hands can be sent from the ground. If all continues to go well, R2 could begin helping out with simple station tasks in 2012.