Robert Pearlman
Editor

Posts: 27328
From: Houston, TX
Registered: Nov 1999

posted 09-05-2009 08:54 PM




---
During STS-128's second spacewalk, Danny Olivas found that heater cables on the outside of Pressurized Mating Adapter 3 were in an unexpected configuration.

According to a NASA report, the berthing port may have been "clocked" incorrectly when it was moved on August 7 from Unity's nadir to its port side.

From the September 5, 2009 ISS On-Orbit Status:
After the EVA-2 crew discovered that the PMA-3 (Pressurized Mating Adapter 3) is rotated ("clocked") 90 degrees off ("tail nadir") from the expected orientation ("tail aft")...

It was also confirmed that the actual PMA-3 orientation is the same as in 2007 (Expedition 15) before it was relocated to Node 1 nadir, and that this is the correct orientation expected for HTV rendezvous/ berthing.

There are currently no plans to rectify the situation which requires that entrances to PMA-3 need to be restricted to certain (solar-heated) Beta angle periods to prevent condensation within the module.

The root cause for this discrepancy is under investigation.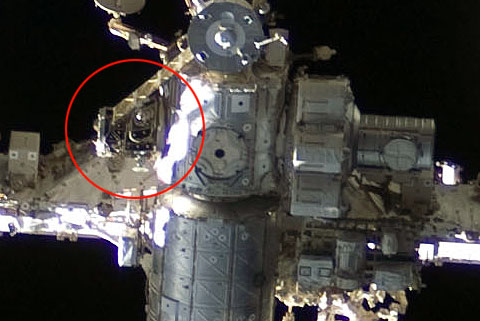 PMA-3, as seen during STS-128, as Discovery approached the station. Credit: NASA
Robert Pearlman
Editor

Posts: 27328
From: Houston, TX
Registered: Nov 1999

posted 09-06-2009 12:53 AM




---
PMA-3 is in the correct physical configuration, according to International Space Station flight director Heather Rarick. Its cables were 90 degrees clocked however from what the STS-128 spacewalk team trained for and what the flight's planners expected when it was berthed on Unity's port side.

Although they do not yet know why the configuration was different from what they trained, the inability to connect the heater cables is not a concern.

If the connection had been possible, the space station's crew would have used PMA-3 to temporarily stow some equipment arriving with JAXA's HTV, but there are other areas on-board station that they can use.

PMA-3 will be moved back to Unity's nadir before Tranquility arrives on STS-130, so that Tranquility can be berthed where PMA-3 is currently.

PMA-3 was moved to the port side of Unity in August so that Unity's port bulkhead could be reconfigured in a pressurized environment in preparation for Tranquility.