Robert Pearlman
Editor

Posts: 30120
From: Houston, TX
Registered: Nov 1999

posted 05-29-2014 07:34 AM




---
SyFy has announced "Ascension, a new six-hour miniseries to air in November.
In 1963, the U.S. government launched a covert space mission sending hundreds of men, women and children on a century-long voyage aboard the starship Ascension to populate a new world. Nearly 50 years into the journey, as they approach the point of no return, a mysterious murder of a young woman causes the ship's population to question the true nature of their mission.
Tricia Helfer ("Battlestar Galactica") is the first named to the cast.

According to SyFy, the above is a long-lead, conceptual teaser for the show. The series begins shooting this summer.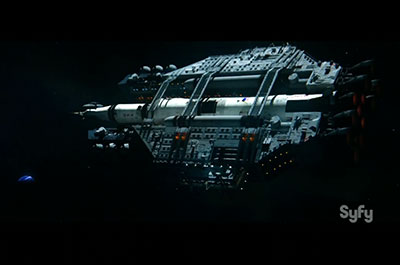 Robert Pearlman
Editor

Posts: 30120
From: Houston, TX
Registered: Nov 1999

posted 07-31-2014 06:32 PM




---
This year's San Diego Comic-Con included a panel devoted to "Ascension," which you can watch here.

Dwayne Day attended the panel and described for The Space Review the changes to the design of the show's spaceship since production of the series has begun.
...the spaceship is based upon an Orion spacecraft concept that could actually exist. It was launched into orbit beneath a steady pulse of nuclear explosions, and the radioactive wake it has left behind makes communication with Earth impossible. He also said that they built some large sets in Montreal to depict the interior of their giant spaceship, which is as tall as the Empire State Building. A brief trailer showed the ship. This was not the same trailer that the network released earlier which depicted a Saturn V encased in a giant steel latticework floating through space. The new version looks more like the early 1960s Orion concepts, although it was not spinning to provide artificial gravity, and viewers will probably have to not look too hard for scientific accuracy or they'll get headaches.
The Comic-Con panel included a new trailer (not yet online) but here are a couple of stills of the ship from the recording of the panel itself.