Rick Mulheirn
Member

Posts: 3715
From: England
Registered: Feb 2001

posted 11-05-2017 10:20 AM




---
Ken Willoughby and Space Lectures are delighted to confirm that the next astronaut speaker coming to Pontefract this spring is Rick Mastracchio.

As a NASA astronaut, Mastracchio logged 228 days in space on three space shuttle missions and one long-duration stay at the International Space Station. His first flight, STS-106, came in 2000, on board space shuttle Atlantis, when he and his crewmates worked to prepare the space station for its first expedition crew. He returned aboard space shuttle Endeavour for STS-118 in 2007, when as lead spacewalker, he participated in three spacewalks to install a new truss segment, a new gyroscope and a new spare parts platform on the space station's exterior.

In 2010, Mastracchio was part of the STS-131 crew of space shuttle Discovery. He performed another three spacewalks and helped deliver 27,000 pounds of hardware, including three experiment racks and new sleeping quarters for the space station. He was then able to put the hardware to use in 2014, when he spent 188 days in space as part of the Expedition 38 and 39 crews. During that stay, he performed three more spacewalks, leaving him with a total of 53 hours spent outside the space station on nine spacewalks.

Prior to becoming an astronaut, Mastracchio worked first with Hamilton Standard and then with Rockwell Shuttle Operations Co. before coming to NASA in 1990 as an engineer. He worked in the Shuttle Avionics Integration Laboratory on space shuttle flight software, and in the Astronaut Office on ascent and abort procedures for crew members. From there, he became a Guidance and Procedures Officer flight controller, working in mission control for space shuttle ascents and entries.

Today, Mastracchio is Orbital ATK's Senior Director of Operations for the Commercial Resupply Services program, which delivers cargo to the International Space Station on Cygnus spacecraft.

Details of the event are as follows:
Friday, 23 March 2018:
Evening Dinner and Auction £80
The King's Croft, Wakefield Road, Pontefract
Photo shoot: 18.00-18.45 (£30 payable on the day)
Dinner 19.00-21.00
Auction and autograph session
Saturday, 24 March 2018:
Lecture £35
Carleton Community High School "The Infinity Theatre"
Doors open at 14.00
Photo shoot: 14.45-15.45 (£30 payable on the day)
Lecture 16.00-17.00
Q&A session, approximately 15 to 20 minutes
Autograph session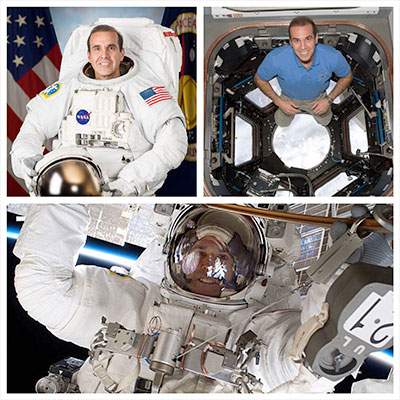 Rick Mulheirn
Member

Posts: 3715
From: England
Registered: Feb 2001

posted 11-16-2017 03:49 AM




---
I would like to invite the budding designers in our midst to submit designs for the Rick Mastracchio photo shoot back drop that will be used in the Space Lectures event in March.

Previous events have turned up some wonderful incarnations and nobody has won more than once which should tell you we are open to designs from all quarters.

Given Rick's extensive career involving the shuttle, ISS, umpteen EVAs and of course Soyuz there is a wealth of imagery out there. I will see to it that the winner receives their own bespoke, signed portrait photo courtesy of Rick and Space Lectures.

Brings it on chaps... and chapesses!