Robert Pearlman
Editor

Posts: 28172
From: Houston, TX
Registered: Nov 1999

posted 11-11-2013 09:05 PM




---
NASA's Johnson Space Center will celebrate 15 years since the launch of the first component of the International Space Station on Nov. 20 at Space Center Houston.

The ISS 15 Year Celebration is open to all (tickets required) and will include:
Food and refreshments

Special program at 7pm

Live music

Astronaut autographs
Tickets ($12 per adult; children 5-12 $7) can be purchased online.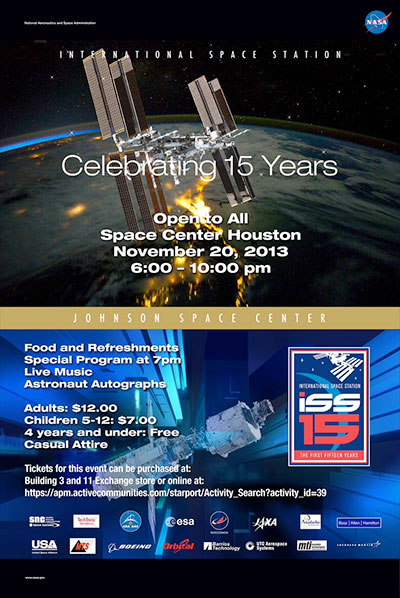 Robert Pearlman
Editor

Posts: 28172
From: Houston, TX
Registered: Nov 1999

posted 11-21-2013 07:14 AM




---
Last night's International Space Station: The First 15 Years celebration was quite good! I'll share what were two highlights from the evening:
The "special program" promoted prior to the event was indeed special. The speakers included:


Ellen Ochoa, Johnson Space Center Director

Bill Gerstenmaier, AA for Human Exploration and Operations

Mike Suffredini, NASA ISS Program Manager

Alexei Krasnov, Roscosmos ISS Program Manager

Masazumi Miyake, JAXA ISS Program Manager

Bernardo Patti, ESA ISS Program Manager

Pierre Jean, CSA ISS Program Manager

Alexander Samokutyaev, cosmonaut

Don Pettit, astronaut


Each gave brief but engaging and heartfelt tributes to the ISS program and those who made and continue to make it possible. There was a real sense of pride in the international cooperation the program has forged and a strong desire to see it continue, not just to 2020 as currently planned, but to 2028 (2013+15=2028).

I've sat through a lot of these presentations and they can often be self-congratulatory and somewhat stale. Last night was an exception, with the participants truly conveying the passion they had for the program to the audience (which included quite a cross section of the International Space Station community).

The unexpected but absolutely wonderful musical performance by Dan Burbank, Don Pettit and Cady Coleman, together with Cady's friend and professional musician Teresa Suber.

Pettit played his "favorite instrument" — a space-age version of a didgeridoo that he devised in orbit from the space station's vacuum hose and assorted attachments. Here's a brief video clip from one of the numbers they performed:
The evening also included a good amount of time to mingle. There were astronauts peppered across the crowd. In addition to those already mentioned, I spotted Mike Fossum, Aki Hoshide, Nicole Stott, Peggy Whitson, Ron Garan, TJ Creamer, Scott Kelly, Hans Schlegel, Carl Walz, Frank Culbertson, Joe Engle and Tom Stafford.
At the end of the evening, everyone walked away with a gift bag that included a specially-mounted ISS pin commemorating the event and a package of M&Ms from Orbital Sciences celebrating their recent flight to the space station. The candies were custom printed with "Go Antares", "Go Cygnus", Orbital's logo or an image of the Cygnus itself.