posted 03-18-2013 03:45 PM




---
Anybody on this forum who had the opportunity to attend Ken Willoughby's latest astronaut encounter but chose not to do so can start kicking themselves about... now! Another excellent event well attended and equally well received by everybody I encountered.

As is the norm for one of Ken's events Al spent the morning at Carleton Community High school being rigorously interrogated - I mean interviewed by media students. Those guys were well prepared. With all the right gear, questions and photographic backdrops it was a very professional and slick production that impressed Al enormously.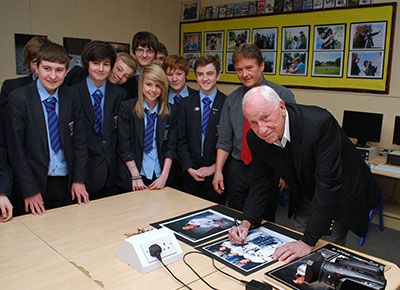 Their resulting DVD production will be made available to the rest of the school; just as well as the planned lecture to the bulk of the students had to be postponed due to unforeseen technical issues with the lecture theatre.

The dinner that evening was attended by around 65 guests. Nick and Bryar Deakin were one of two suppliers with a juicy selection of Worden goodies. Bryar basking in her recent TV glory.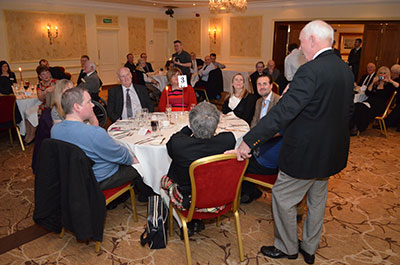 Al kicked off proceedings with 15 minute intro that covered his time here while flying at the Empire Test Pilots School in the early 60s; he loves the UK and told me "I would move over here tomorrow if I could find something to do".

Professional portrait photographers were on hand and Al signed guests photos, along with a host of other items, following the after dinner auction.

Saturday's public talk was not a full house; around 260 tickets had been sold the last I heard. It was great to meet so many collectSPACE members, young and old. The oldest clearly being Moorouge (Eddie). Then there was Brian, Steve (how is the new banjo string), Mike, Tykenaut and his wife Nikki, OWL and his wife....."Mrs OWL", Crash, Aileen, Kite and others; my apologies if I missed anybody out.

Eddie, your faith in me is appreciated as much as it is misguided; I did show you the queue for those wanting to meet me but as you will recall, there was nobody in it.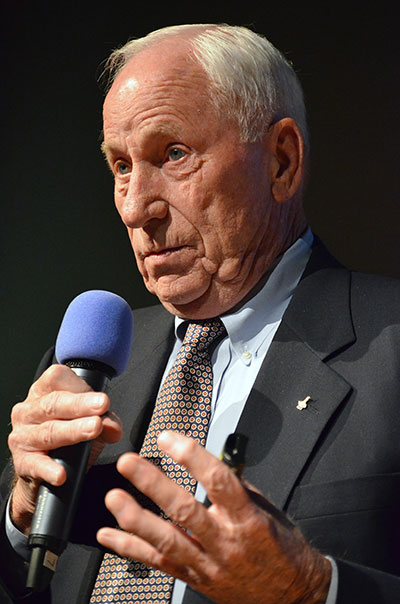 Al's presentation lasted around an hour and this was followed by a brief Q&A and then the raffle. I might suggest to Ken that any future event has a longer Q&A as something tells me it would be well received.

The only fly in the ointment was the failure of a brief launch video to run, despite having done so at an earlier rehearsal.

I have to confess I was a tad surprised at the lack of evident crowd control. Whether it was the smaller crowd than previous or the stern talking to by Deputy Head and proud scouser David Jones prior to the signing, the queue seemed good natured and orderly. I was in and out of the theatre for the duration of the signing and did not see anybody trying to jump the queue.

I did discuss the matter with a couple of guests as the signing progressed but as one chap and fellow cS member put it, "So what if Charlie's signing could have been a tad slicker. I've had a great time, I've heard a superb lecture and had two items signed for £30; people should stop moaning". His words not mine.

The highlight of the weekend for me was an exclusive private tour of the Lincolnshire Aviation Heritage Centre organised by Julie McDermott (aka "Mrs OWL").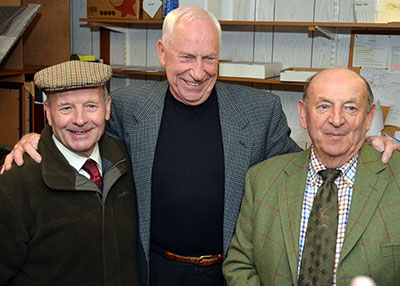 The centre, owned by brothers Fred and Harold Panton is the largest and most authentic Bomber Command museum in the country. The centre piece is a beautiful Lancaster bomber currently being restored to flight status. Fred's daughter, grandchildren and a small group of close friends and volunteers operate the site. Despite being officially closed on a Sunday Fred, Harold and everybody else at the museum could not have been warmer, friendlier or more welcoming.

Fred and Harold in particular were as awestruck with Al as we were with the Lancaster. I overheard Fred say "I can't believe it. An Apollo astronaut... here! Who'd have thought it possible."

The Panton family business is chicken production. Coming from a farming background himself Al recounted childhood memories of his father's farm. He recalled "preparing" chickens for dinner. "Don't get too attached to your chickens" was Al's advice to Fred. "It makes them tougher to eat!"

Suffice to say, should any chicken owning collectSPACE members ever find Al Worden on their doorstep, don't ever leave them alone with Al!!!

The weather on Sunday was appalling but Fred and Harold insisted on rolling the precious Lancaster out before taking Al for a taxi around the apron. The grass landing strip was water logged and they feared the craft would bog down.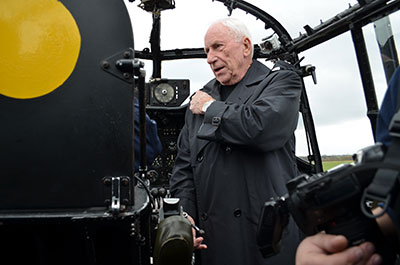 I accompanied Al and a handful of others, including the pilot, aboard the aircraft. Boy it was tight. A claustrophobic's nightmare, there was barely room to swing a mouse, let alone a cat. The experience could not help but heighten my respect and admiration for the brave guys who flew those things.

My father served with the RAF as an air frame fitter during WWII repairing and servicing Spitfires, Hurricanes and now I'm told the occasional Lancaster. He would have been very much at home in the confined aircraft interior and the encounter inevitably brought a bit of a lump to my throat.

With the engines about to fire up I chose that moment to bail, leaving the second best photographer Andy Green (formerly Stardome) to take on-board pictures. I squeezed my 6ft 5in frame, "racing snake" figure out of the hatch... like toothpaste from a tube.

When those Merlin engines spluttered in to life the hairs stood up on the back of my neck; I defy any patriot not to feel the same way. I was fortunate enough to witness the launch of STS-125 from the Press site in 2009 and the assault on the senses was just as intense; just as loud. But at its peak the shuttle lasted for a few seconds; the Lancaster went on for 15 minutes. Simply AWESOME!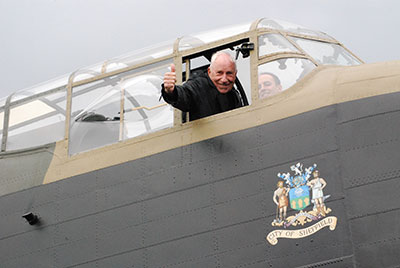 Piloted by Fred's grandson Andrew, accompanied by engineer Keith and rookie co-pilot Al Worden I was confident the aircraft was in good hands. The same could not be said however for the rag bag, moth eaten rabble that accompanied them. The last time I saw a "crew" that motley was aboard the Black Pearl with Johnny Depp! To my horror I spotted OWL (Andy McDermott) manning the rear gunner's turret but the grin on his face reassured me; The Luftwaffe were safe, as were the hanger "barn doors" immediately adjacent to the aircraft!

The adventure ended in the cafe with warm drinks and warmer encounters, press interviews and photos. The cafe served as a gift shop too, but most humbling were the photos, mementos and memorabilia; a memorial to the 858 servicemen that gave their lives for this airfield in WWII.

OWL and I donated several prints as a mark of our gratitude and appreciation for the hospitality and in recognition of the outstanding work done by the museum. Al was more than happy to sign, inscribing one classic shot of the Apollo 15 CSM in lunar orbit..."To Fred & Harold; Me in MY Lancaster." Fred assured Al the print would make it on to the wall of the museum; an honour not lost on Al.

I can highly recommend a visit either in person or via the museum's website for those living farther afield.

I must thank Ken and his support team for affording me unfettered access on what was an outstanding occasion. Al was a joy to be around. Erudite and eloquent on a host of topics from history to politics, education to Socialism. Always quick witted with a smile to match. He was always keen to speak to anybody and everybody who fell within his orbit.

The guy reminded me of the Duracell Bunny. Bright and full of energy he just went on and on and on...

What you may ask will the future hold for Pontefract? I heard a rumour or two but in all honesty I can't say anything because I don't know what Ken has up his sleeve, besides his arm. Safe to say, if the well founded rumours are true expect something very special for later in the year. A chance perhaps to stop kicking yourself and dig out the cheque book!