Robert Pearlman
Editor

Posts: 27328
From: Houston, TX
Registered: Nov 1999

posted 08-16-2011 08:39 AM




---
Stephen Colbert's (a) space nut


Credit: NASA/Paul E. Alers

Above:

Comedian Stephen Colbert, host of The Colbert Report on Comedy Central, saluted the crew of STS-135 — seated from lower left, commander Chris Ferguson, pilot Doug Hurley, and mission specialists Sandy Magnus and Rex Walheim — during the taping of his television show, Tuesday evening Aug. 16, 2011, in New York.

Below: At the conclusion of the interview, Colbert was given a frangible (explosive) nut by the STS-135 crew members. The nut was one of eight used to hold down Atlantis on the launch pad prior to the final space shuttle launch.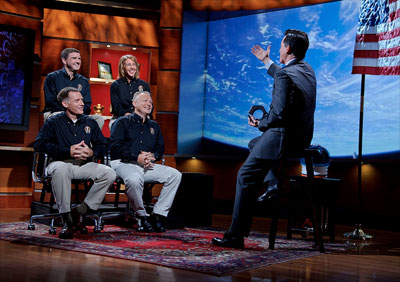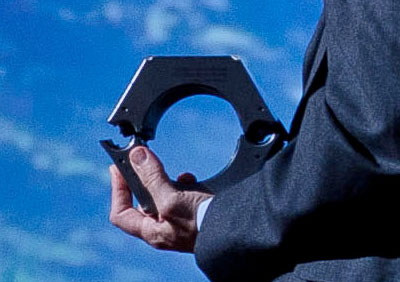 Credit: NASA/Paul E. Alers
About that frangible nut...
Each of space shuttle Atlantis' two solid rocket boosters (SRBs) had four hold-down bolts, which held the vehicle to the launch platform's posts before liftoff.

Each 6-inch wide bolt had a frangible (explosive) nut at one end. Those nuts had two detonators each, which ignited when the solid rocket boosters lit.

When the detonators went off, the nuts were broken into halves, which were caught in blast containers. Half of the nut remained on the pad, while the other half rode with the solid rocket booster on its two minute flight before the SRB separated from the shuttle and fell back to be recovered after an ocean splashdown.
Robert Pearlman
Editor

Posts: 27328
From: Houston, TX
Registered: Nov 1999

posted 08-17-2011 03:31 AM




---
Colbert's interview and signoff with the STS-135 crew (video may not be available outside the U.S.).