posted 04-08-2006 07:27 AM




---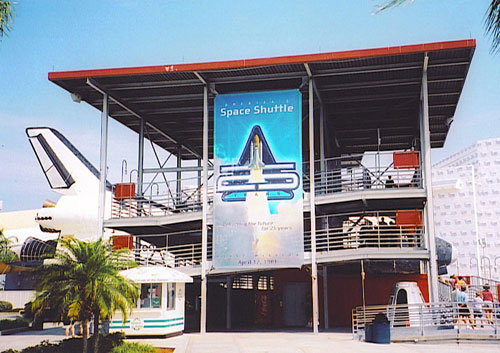 What a great day it was! No rain, hardly a cloud in the sky and KSC was absolutely packed with people! I first attended the luncheon with Young and Crippen and then their appearance at the Astronaut Encounter stage.
I was able to set up my video camera in the rear of the dining area as others went through the buffet. When I finally went through they were out of mac & cheese, so I went back after I had finished off my plate of veggies and rice. As I was nearing the end of the buffet I saw Young, Crippen & Jon McBride waiting to go inside the main room. When I reached the end of the buffet table Young was standing alone just 10 feet away. With my plate in my left hand I walked over, shook his hand and thanked him for being there for this very special anniversary. He was very polite and thanked me in return. As I turned and walked back into the dining area I suddenly wondered if Young at first thought I was about to offer him my plate of mac & cheese...
A really nice 5 minute video by the History Channel started the luncheon. It included many photos and video of shuttle launches, astronauts, on-screen text of specific missions and accomplishments, as well as news footage of Reagan and Bush talking about the losses of Challenger and Columbia respectively.
Afterwards, 'Big Jon' McBride took the stage for a few minutes speaking about the guests of honor. Young and Crippen then had a seat on stage and talked about the STS-1 mission. They both wore dark suit jackets and pants, Young with his trademark turtleneck. Crippen showed nothing but endearing admiration for Young and even got him to crack a smile or two. Young first talked about how "the potty" on Columbia had problems and then about more technical issues.
After they allowed questions I asked Crippen if he remembered the first words Young said to him after the then rookie officially reached space. Crippen laughingly said, "I'm too old and that was too long ago!" and then asked Young if he remembered. Young responded by saying at that specific point there were so many things that had to be done on their checklist, that whatever was said had to do with their duties at hand. He continued that even though they may not have been important words, they were "useful" words! Another guest asked Crippen what the launch was like. He said it was like being in a jet fighter when catapulted off an aircraft carrier. He continued saying the SRBs made things shake quite a bit and that for a few seconds after SRB separation he wondered if the main engines had cut off too as the ride was very smooth.
While Young and Crippen were on stage McBride came to the back of the room where I was standing with my video camera. He stood just two feet away while listening and drinking his Sprite. I was about to say hello when a KSC employee came up and told him he could sit at a near table. He sat for a while, took a photo with a couple at the table and then came up to me upon leaving the area and, offering his hand, politely asked how I was. I've met a lot of astronauts and that was the first time one has ever initiated a handshake!
The last question came from audience member Pad Leader Guenter Wendt. He asked Young if the CEV to the Moon should include 4 or 6 people. Young left it open to 4 or 6 but opted for the minimum to get the job done as more people means it would cost more and take longer to build. He concluded by saying he has been telling this to NASA for over two years and also that if one had a nickel for every time he was kicked out of a meeting, one "would be very well to do!"

Young and Crippen spoke basically about the same things at the Astronaut Encounter stage. I had my video camera set up about three rows behind and to the side where Jon McBride and Al Worden were sitting.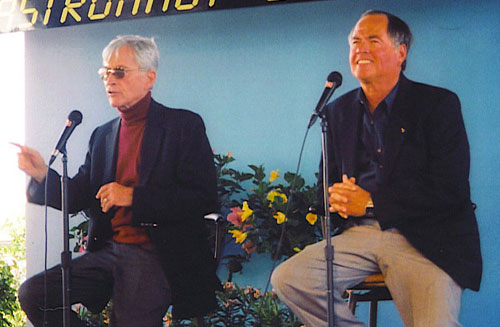 Crippen talked about seeing Earth from orbit. He obviously noted the many children in the audience as he asked everyone to imagine Earth as a soccer ball wrapped with a single layer of aluminum foil. Crippen went on to explain that the foil represents Earth's atmosphere and needs to be cared for as that is what allows us to live on this planet.
The last question was asked by a little girl of about seven years old with the most cutest English accent one has ever heard. She wanted to know what was their favorite memory of being in space. Crippen responded first, "The part between launch and landing!" Young said his favorite memory "is just being there". He then explained that space exploration is the "key to the success of the human race on this planet", and that we need to focus on tomorrow, the future of your children and grandchildren and what kind of place Earth will be for them.
There were no photo opps with the two and, of course, no autographs. After both appearances they were quickly led away. And, the souvenir at the luncheon? A detailed STS-1 25th anniversary coin.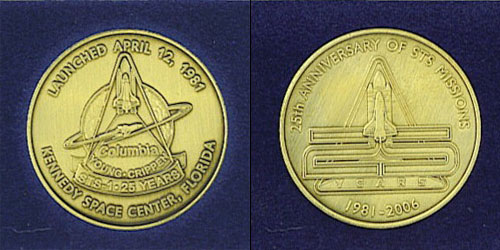 [This message has been edited by collectSPACE Admin (edited April 08, 2006).]