posted January 31, 2005 12:34 AM




---
Aloha all,

I was fortunate enough to spend today at The Ellison Onizuka Space Center(Big Island Hawaii) for a special Commemoration event honoring all those who have given their lives in the endeavor to explore the Universe.

In attendence were many NASA and Ames officials and most noteable was astronaut Ed(Mike)Fincke (Expedition 9). Mike just returned a few months ago after a 188 day adventure on the ISS.

The event included this presentation by NASA to Ellison Onizuka's brother and sister of a nice photo montage of Challenger crew.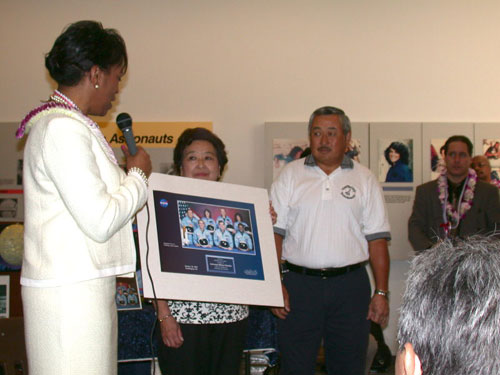 The next presentation was by Astronaut Mike Finke of a montage from his recent Expedition 9 mission to the ISS.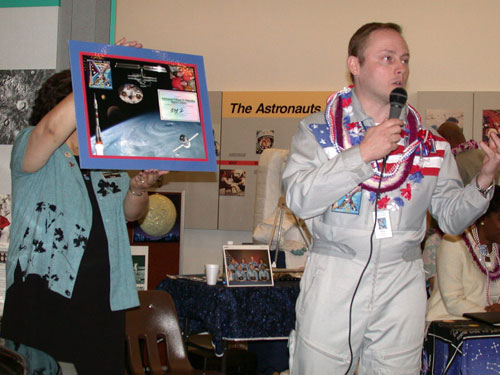 You could definatly feel the "Aloha Spirit" and the spirit of those who have passed away before, during this memorial today.
The day continued with NASA people speaking, mainly to the kids, allowing them to try on a space suit, taste Astronaut food, and play with the many space related experiments.
Mike Fincke gave a great speech. This guy is truely a wonderful human being, very intelligent, humble, and greatful. Mike brought along a nice DVD documenting his 188 days in Space. Very interesting mission...lifted off from the same launch pad that Gagarian launched from, had an ISS Oxygen generator go on the blink, had an electrical problem on the outside of the ISS that required a spacewalk to correct and when they suited up with the American made space suits realized they were not useable. Among all the other things going on Mike's wife gave birth to a baby girl while he was in space.
Mike was very patient with the kids and happy to sign photos for everyone, he even stayed late to accomedate everybody.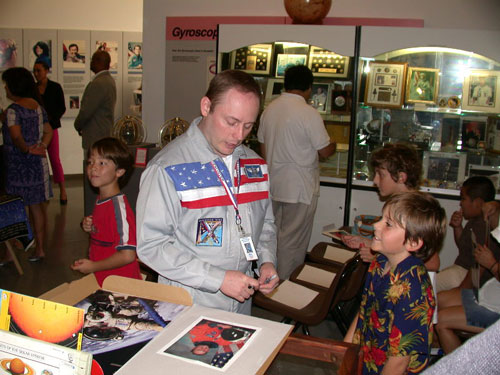 I was most enthralled with this photo I printed of Mike in the Russian Orlan spacesuit. Mike signed one for me and this one...."For The Onizuka Space Center Inspiring the next generation of Exporers "ED M. Finke" NASA Astronaut International Space Station, Expedition 9, 19 April - 23 Oct 2004.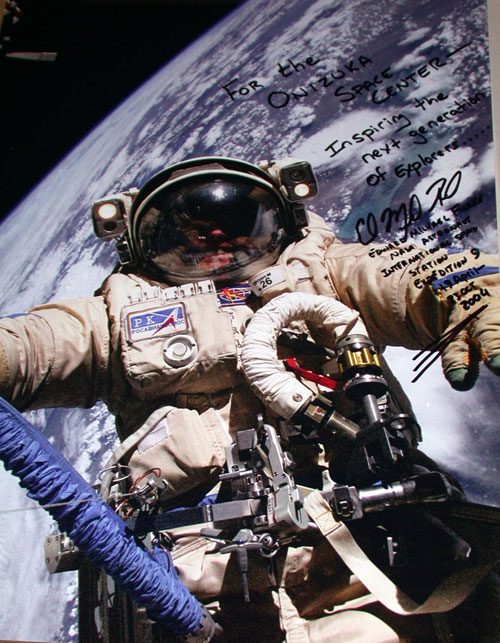 Life is good! Many,many thanks to those that have given theirs for the betterment of all Mankind.
Dave
[This message has been edited by BigWaveDave (edited January 31, 2005).]