Apollo-Soyuz
Member

Posts: 903
From: Shady Side, Md
Registered: Sep 2004

posted 11-28-2013 03:01 PM




---
Space Cover of the Week, Week 241 (November 29, 2013)
Space Cover #241: Flight Director Randy Stone

The space covers this week are a tribute to JSC Flight Director Randy Stone who recently passed away on November 25, 2013. The flight directors during the shuttle program were always receptive to autograph requests from collectors.
------------------
John Macco
Space Unit #1457
Antoni RIGO
Member

Posts: 17
From: Palma de Mallorca, Is. Baleares - SPAIN
Registered: Aug 2013

posted 11-30-2013 03:29 AM




---
Thanks John.

Here my little tribute to Randy Stone in this Apr.26, 1993 KSC cover for the launch of STS-55 mission Spacelab D-2.

The cover was signed by four FD plus Randy Stone (lower left corner) already in his charge as MOD, Mission Operations Director.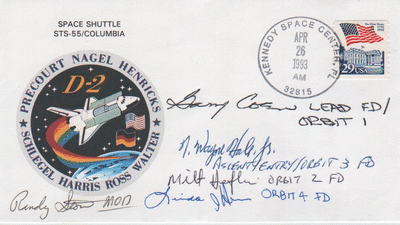 Rest in peace.
LM1
Member

Posts: 394
From: New York, NY USA
Registered: Oct 2010

posted 01-03-2014 12:37 PM




---
This link may be an appropriate addition to this thread about Randy Stone.