yeknom-ecaps
Member

Posts: 458
From: Northville MI USA
Registered: Aug 2005

posted 03-09-2013 08:07 PM




---
Space Cover of the Week, Week 204 (March 10, 2013)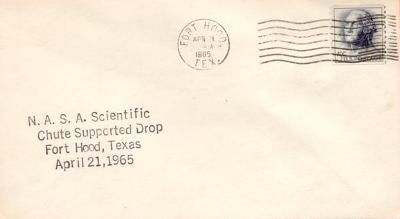 Space Cover #204: "El Kabong" Dropped at Fort Hood

As a 1965 NASA report noted "The total Parasail land-landing system includes the gliding parachute for local obstacle avoidance and landing attenuation rockets fired just above the surface to reduce descent velocity prior to impact. The program we have been conducting has included component development of the parachute, the landing attenuation rockets, turn control motors for steering, altitude sensors, pilot display and visual reference system, and landing gear."

NASA successfully flew this system four times, and while it was developed too late for the Gemini program, many believed it could be incorporated into the Apollo recovery system.

Starting April 21, 1965, a test program capsule, dubbed "El Kabong, " was dropped from an Air Force Reserve C-119 from an altitude of 11,500 feet at Fort Hood, TX. During descent tests, personnel steered the parasail by radio command to operate motors on the capsule that controlled flap angles on the sail and allowed modest control of drift. As the test spacecraft neared the ground, sensors ignited two 6,000-pound thrust motors that reduced capsule speed to less than 10 ft/sec. The capsule then landed on tricycle landing gear.

The first two tests did not go as planned, but on the third, flown on July 31, 1965, the capsule landed within 40 feet of its target at Fort Hood's Antelope Mound tank range. "We've got a winner!" an engineer named Lee Norman announced at the conclusion of the test. He announced correctly (as all earlier tests had taken place over water), "This is the first successful landing [of a spacecraft] in this country!"

The cover above was cancelled at Fort Hood on April 21, 1965 for the first test.
micropooz
Member

Posts: 1239
From: Washington, DC, USA
Registered: Apr 2003

posted 03-09-2013 08:20 PM




---
Outstanding, Yeknom! I had never heard of "El Kabong" (aside from the Quick Draw McGraw cartoon) nor seen that cover before. Great story!!!