Bob M
Member

Posts: 1367
From: Atlanta-area, GA USA
Registered: Aug 2000

posted 02-04-2012 12:38 PM




---
Space Cover of the Week, Week 147 (February 5, 2012)
At the top is an Artcraft cacheted cover for the First Day of Issue of the Project Mercury stamp and shows how appropriate and useful they are to have autographed.

The bottom cover is another Artcraft cacheted cover and is affixed with a Plate (number) Block of four of the Space Twins issue. FDCs with Plate Blocks are popular with collectors.
The top cover is an Apollo 11 FDC with a Fleetwood cachet and is autographed by Paul Calle, the designer of the famous Apollo 11 First Man on the Moon stamp. Having FDCs autographed by the stamp's designer is popular.

The bottom cover, another Artcraft cachet, shows the addition of other appropriate and previously-issued stamps.
The top cover, an Artcraft Skylab stamp cacheted cover, shows its usefulness in having an additional cancel applied. In this case, it's for the Skylab Space Station's final day in orbit

The bottom cover, an USPS issued cover, commemorates the 20th anniversary of the Apollo 11 moonlanding with a handsome $2.40 Priority Mail stamp designed by Chris Calle.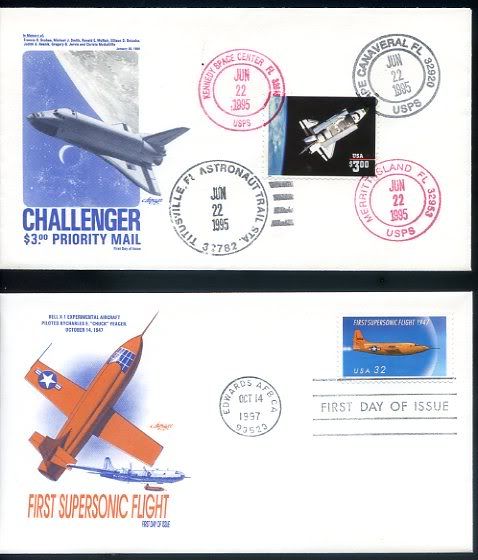 While all the other covers have the usual "First Day of Issue" machine cancel, typical of standard FDCs, this Artmaster cacheted cover, at the top, was done differently. It was carried to four different post offices for hand stamp cancels all on the official first day of issue. It's certainly a FDC, but bears three unofficial first day of issue cancels.

And finally, the last cover is a handsome Artmaster cacheted cover and commemorates the 50th anniversary of the Bell X-1 rocketplane breaking the sound barrier. As is typical of FDCs, it was postmarked at the site where the event took place and on an anniversary of the event.

Space Cover #147, Space Stamp First Day (of issue) Covers (FDCs)

While a cover postmarked on the date and at or near a space launch or landing site can be called an event cover, or launch cover, or landing cover, those covers postmarked on the first day of issue of a stamp are referred to as First Day Covers (FDCs), or First Day of Issue Covers. Often an event cover is referred to as a "FDC," which is incorrect.

Space First Day Covers have rarely been shown or discussed in our Space Cover of the Week series, but they are very popular and can have special uses to space cover collectors. This week I have presented eight space stamp FDCs that should give an good sampling of US space stamp FDCs and interesting and various uses for them.
Ross
Member

Posts: 373
From: Australia
Registered: Jul 2003

posted 02-05-2012 07:45 AM




---
How about some Aussie covers. Since soon after Australia Post started issueing FDCs on a regular basis in 1970, most other suppliers have ceased producing them. Below is a typical example for the 2009 Stargazing: The Southern Skies issue
Next is a Wesley cover for the same issue, one of the only competitors to AP left.
Next are a couple of older covers from before AP issued FDCs.
Ross
Member

Posts: 373
From: Australia
Registered: Jul 2003

posted 02-05-2012 09:04 AM




---
Finally three with pictorial postmarks.
Now, how about some examples for other countries!