Apollo-Soyuz
Member

Posts: 868
From: Shady Side, Md
Registered: Sep 2004

posted 07-31-2011 07:14 AM




---
Space Cover of the Week, Week 120 (July 31, 2011)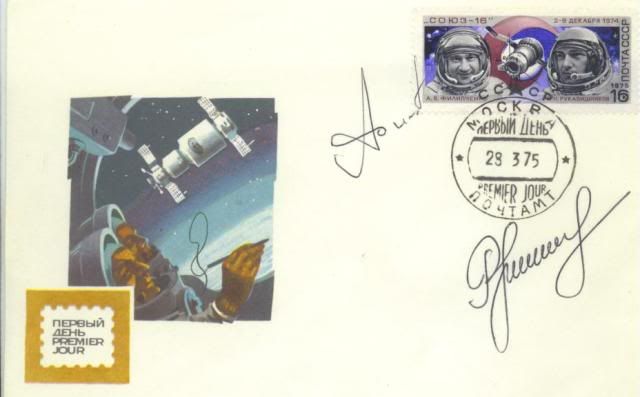 Space Cover 120: ASTP Precursor Flight Soyuz 16

The Soyuz 16 spacecraft with crew of cosmonauts, Anatoly Filipchenko and Nikolai Rukavishnikov was launched on December 2, 1974 and landed on December 8, 1974. Mission duration was 5 days, 22 hours and 23 minutes. This mission was a final dress rehersal of the ASTP mission. The crew tested the androgynous docking system as well as modified enviromental systems, new solar panels, improved control systems and a new radar docking system.

The above cover is a first day cover of Russia Scott #4311 which was issued on March 28, 1975.
------------------
John Macco
Space Unit #1457
micropooz
Member

Posts: 1239
From: Washington, DC, USA
Registered: Apr 2003

posted 07-31-2011 07:44 AM




---
Great cover John! And great subject too - it's easy to overlook this important "dress rehearsal" for ASTP.

One of the other big contributions of Soyuz 16 was that the US and USSR tracking stations shared their Soyuz 16 tracking data so they could iron out any differences before ASTP (see below):