eurospace
Member

Posts: 2610
From: Brussels, Belgium
Registered: Dec 2000

posted 07-03-2010 10:45 AM




---
Yesterday, Italy has issued a commemorative stamp to commemorate the 100th Anniversary of the death of Giovanni Virginio Schiaparelli, the Italian astronomer who contributed to the research on Planet Mars an was famous for the so-called "canals" on the red planet.

The stamps denomination is 65c, sufficient for domestic mail.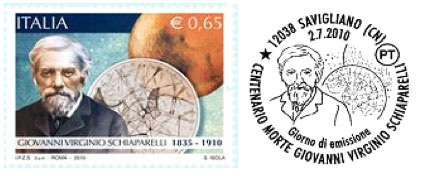 Two pictorial postmarkers are thus far known to be used on the occasion:
the first day of issue postmarker used on July 2nd in Savigliano, the small town where Schiaparelli was born

a pictorial postmarker in the city of Varese, commemorating "Open Door Day" on the local astronomical observatory there named after Schiaparelli.