Apollo-Soyuz
Member

Posts: 868
From: Shady Side, Md
Registered: Sep 2004

posted 10-24-2009 08:28 PM




---
Space Cover of the Week, Week 28 (October 26, 2009)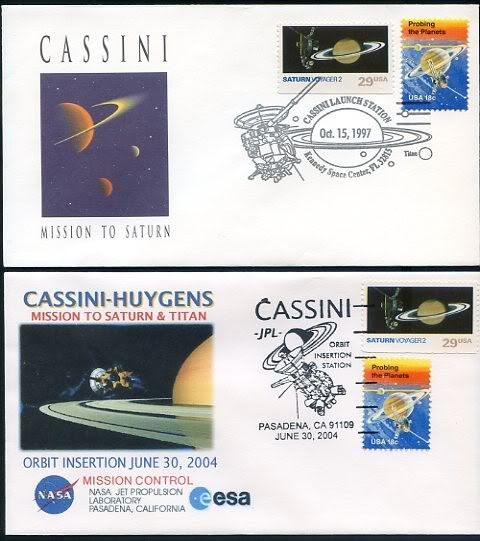 Space Cover #28, Cassini Mission to Saturn

This week's Cover of the Week commemorates the Cassini mission to Saturn.

Cassini was launched on October 15, 1997 abaord a Titan-4/Centaur launch vehicle from Kennedy Space Center, Florida. Cassini had to execute two gravity assist flybys of Venus and one each of Earth and Jupiter. The Cassini mission is managed by the Jet Propulsion Laboratory and is an international venture involving NASA, ESA and ASI - the Italian Space Agency. The two story tall spacecraft consists of a Saturn Orbiter and ESA built Huygens Titan Probe that will conduct 27 different scientific investigations.

On June 30, 2004, Cassini executed a 96 minute orbit insertion burn to go into orbit around Saturn. Special pictorial cancels were used KSC and Pasadena, Ca. post offices for launch and orbit insertion. The JPL Stamp Club was instrumental in procuring the pictorial cancels.

The franking on the two covers was very appropiate and how using them helped transform what would have been just a nice, standard space cover into something extra special. These two covers nicely illustrate the three basics of a good space cover- well designed and appropiate cachet; attractive and well-applied cancel and the good use of stamps.
------------------
John Macco
Space Unit#1457
Ken Havekotte
Member

Posts: 1823
From: Merritt Island, Florida, Brevard
Registered: Mar 2001

posted 10-24-2009 08:31 PM




---
John --

Just for the record, my company was responsible for the creation and availability of the Cassini pictorial cancel uses; mainly with the KSC applications.

Cachet covers, with a 2-sided printed insert card, were also produced by SpaceCoast Cover Service (SCCS) in 1997 (see first illustration).

The depicted second printed cover was a joint cachet production by European and American philatelic sources, in which SCCS was a part of and distributor for.

If I recall, the pictorial cancel used at Pasadena, CA, was provided by an associate of mine from the Los Angeles area. I don't think the JPL Stamp Club had anything to do with the special Cassini postal applications.
Apollo-Soyuz
Member

Posts: 868
From: Shady Side, Md
Registered: Sep 2004

posted 10-25-2009 07:01 AM




---
Ken- Thanks for the clarifications and corrections.

------------------
John Macco
Space Unit#1457