Apollo-Soyuz
Member

Posts: 868
From: Shady Side, Md
Registered: Sep 2004

posted 07-19-2009 07:02 AM




---
Space Cover of the Week, Week 14 (July 20, 2009)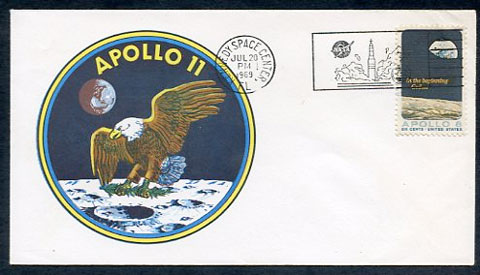 Space Cover #014, Apollo 11 Moon Landing

On this very special day, the 40th anniversary of the Apollo 11 moonlanding, we have selected a special cover that commemorates this historic event.

This week's space cover has a Kennedy Space Center machine cancel dated July 20, 1969; a 6 cents stamp issued for the Apollo-8 first lunar orbitial mission and the impressive Apollo 11 crew patch/mission emblem cachet.

It's basically a simple cover, with just the three basic elements that every good space cover should have; nice cachet; proper cancel and appropiate stamp. As such, it serves as a signicant and handsome souvenir of man's greatest space achievement.

This one cover is just one of hundreds and thousands of covers cancelled aroung the world to commemorate man's first lunar landing and walk on the moon.

Unlike almost all of us present day space enthusiasts and collectors, this cover was there at Kennedy Space Center when Apollo 11 was launched and when man first walked on the moon.
------------------
John Macco
Space Unit #1457
Ken Havekotte
Member

Posts: 1823
From: Merritt Island, Florida, Brevard
Registered: Mar 2001

posted 07-19-2009 01:05 PM




---
As a sidebar in reference to the above cover, it was mainly produced and distributed "on base" in 1969 at the Kennedy Space Center employee gift shops by the NASA Exchange Council. While thousands were printed, most were postmarked at KSC on the July 16 launch day. Only a handful were actually cancelled on July 20 for the historic moonwalk as the main KSC postal facility was closed on that particular day. Postal requirements of that era required all postal covers be addressed while being processed philatelically. Therefore, the majority of Apollo 11 covers had to be addressed in some way or another.

This is the same cachet cover type, 1 of 3, that was used by the Apollo 11 crewmembers for their own insurance covers purchased for them by the MSC Stamp Club. The Apollo 11 cachet cover was the fourth in a series produced by NASA Exchange. The first was for Apollo 8.
Bob M
Member

Posts: 1367
From: Atlanta-area, GA USA
Registered: Aug 2000

posted 07-22-2009 03:25 PM




---
Thanks, Ken, for additional information on this cover. As Ken stated, this Apollo 11 crew patch/mission emblem cacheted cover was produced by the KSC Exchange Council which continued to produce printed crew patch covers for the rest of the Apollo Program. Unfortunately, they didn't start with the first Apollo manned flight, Apollo 7, so a complete set of "patch covers" for all the Apollo manned flights isn't possible, although very suitable covers for Apollo 7 can be found and included.

"Patch" covers continued and have been produced by various sources (including Ken's Space Coast Cover Service) all through the Shuttle Program and include all the Space Shuttle flights, right up to STS-127 in space at this time.

So it's quite possible and not overly expensive to put together a set of all "patch" covers from Apollo 8 to STS-127: 141 flights and covers.

And with the Space Shuttle Program scheduled to end after seven more flights, a complete set of "patch" covers for all 134 Shuttle flights/launches at the end of the program would be a very significant and impressive achievement.

Bob McLeod
SU#1449
Ken Havekotte
Member

Posts: 1823
From: Merritt Island, Florida, Brevard
Registered: Mar 2001

posted 07-22-2009 07:05 PM




---
Bob, welcome back from your short trip.

As Bob pointed out, crew "patch" covers were produced for all US manned/human spaceflights from 1968 (Apollo 8) to present (STS-127).

They were issued by NASA Exchange, Cape Kennedy Medals, Space Shuttle Covers and by my own firm, SpaceCoast Cover Service.

CKM in Cocoa Beach, FL, stopped producing the patch covers in 1984. My company, in association with Space Shuttle Covers in Titusville, FL, took over the space philatelic operations on Florida's Space Coast.

Throughout this period, though, NASA EXC was still producing their own cachet patch covers from their printers in Orlando, FL.

There was a major development or change with the cover operations here after the 51-L/Challenger tragedy in 1986.

Space Shuttle Covers went out of business a few months after Challenger went down. A few months after that, my firm was able to purchase of what remained from Space Shuttle Covers.

Starting with STS-26 in 1988, SCCS was the sole primary producer of shuttle patch cachet covers for Spaceport USA (now the KSCVC), but NASA EXC still had their own patch covers issued in their "on-base" employee gift shops at Kennedy Space Center.

After a few short years when the shuttle fleet was back in service, SCCS contracted with NASA EXC to produce their patch covers from 1993 to present.

As Bob said, "patch" covers for every human spaceflight launch from Apollo 8 to present are available, but are extremely limited in complete sets.

This would include Apollo mission from 8-17 (10), the Skylab program (3), Apollo-Soyuz (1), and all the 127 shuttle launches from 1981-2009 (127); a total 141 different human space shots! Anyone interested in a complete set, plus, I'll be happy to include the remainder of the shuttle flights at no additional cost.