Robert Pearlman
Editor

Posts: 27327
From: Houston, TX
Registered: Nov 1999

posted 02-24-2008 10:00 AM




---
Guide published for all European and Russian space stamps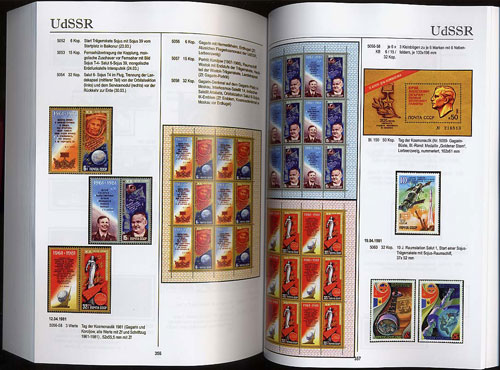 Weltraum Philatelie e. V., the German association of space stamp and cover collectors, has released a new, full-color guide to every space-related stamp ever issued in Europe and Russia.
From Albania through Yugoslavia, on over 450 pages, author Dieter Steinbrecher provides descriptions and illustrations of the stamps issued through the end of 2007. "This catalog caters for the needs of collectors who wish to collect, sort or exhibit space and astronomy stamps," Steinbrecher explains.
The catalog uses the numbering system of the German Michel catalog, however it is not a price guide as values are not listed.
"Each and every single stamp is reproduced in color, not just a single stamp standing as an example. This has never been done before," said Florian Noller, President of Weltraum Philatelie.
In the years to come, Weltraum Philatelie intends to publish additional volumes, assembling the space stamps issued on the other continents.
The printed catalog is available for 55 Euro or 20 Euro for a PDF version on CD-ROM. Shipping costs are additional. For more information or to purchase your copy, contact Florian Noller.