posted 10-01-2003 08:44 PM




---
Official First Day Covers: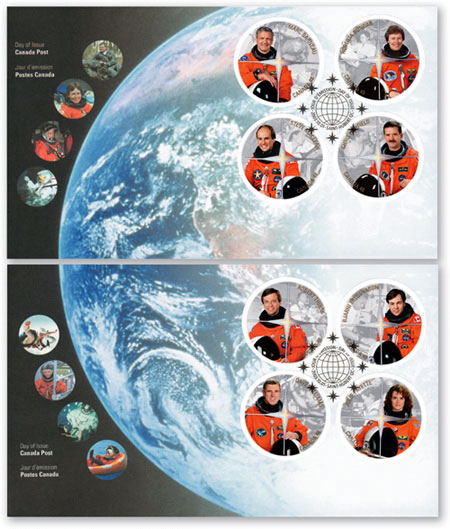 For background information, see: http://www.collectspace.com/news/news-092503a.html
The eight stamps were designed by Pierre-Yves Pelletier in spherical shapes that call to mind the path of an orbit. The twinkling star is an image found on the Canadian Space Agency's logo; it represents a productive, energy-producing star, believed to have influence over human destiny. Its twinkling appearance is the result of holographic hot stamping and micro-embossing.
Each stamp portrays an astronaut and illustrates a highlight of his or her mission, and the back of the stamp pane provides brief descriptions. The bottom of the pane illustrates the "Canadian space handshake" of 2001, when the Canadarm2 on the International Space Station transferred its launching cradle to the Canadarm on the shuttle Endeavour, with astronaut Chris Hadfield at the controls.
Stamp Specifications
Date of Issue: 01/10/2003
Last Day of Sale: 30/09/2004
Denomination: 8 x 48¢
Design: Pierre-Yves Pelletier
Dimensions: 40 mm diameter
Gum Type: Self-adhesive
Paper Type: Tullis Russell Coatings
Perforations: Kiss cut
Photography: Canadian Space Agency; NASA
Printer: Lowe-Martin
Printing Process: Lithography in 6 colours, with foil stamping in 2 colours and spot varnish
Quantity: 6,000,000
Tagging: General, all around
Product Number: 113546
Layout: Pane of 8 stamps
Price: $3.84
Product Number: 413546131
Layout: Official First Day Cover
OFDC Cancellation Location: Saint-Hubert QC
Price: $5.84
To order any of the products listed, please note the product number and price and call from Canada and the USA: 1 800 565-4362.
From other countries: (902) 863-6550.
Fax: (902) 863-6796
or write to:
NATIONAL PHILATELIC CENTRE
75 ST. NINIAN ST
ANTIGONISH NS B2G 2R8
CANADA