advertisements

Stamps honor Canadian astronauts
September 25, 2003
— This fall, Canada Post will issue a set of new stamps to celebrate Canadian astronauts, the Canadian Space Agency (CSA) and decades of Canadian achievements and presence in space. Each of the eight stamps will feature a Canadian astronaut who has spent time in space.

Six million of the stamps will be issued on Oct. 1.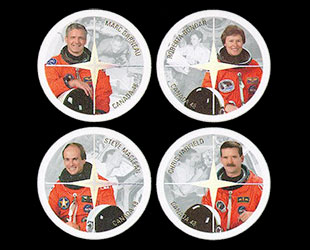 From top left: Marc Garneau, Roberta Bondar, Steve MacLean and Chris Hadfield.
(Canada Post)
"For more than 40 years, Canada has vigilantly pursued a national vision of space that has brought many dreams to reality," said Honourable Steven W. Mahoney, Secretary of State responsible for Canada Post. "For Canadians, space exploration remains not only a source of wonder, but of national pride. Canadian Astronauts have played a key role over the past two decades in NASA Shuttle missions."

The Canadian astronauts featured on the new stamps are those that have flown in space:


| | | |
| --- | --- | --- |
| Marc Garneau | | STS-41G, STS-77, STS-97 |
| Roberta Bondar | | STS-42 |
| Steve MacLean | | STS-52 |
| Chris Hadfield | | STS-74, STS-100 |
| Robert Thirsk | | STS-78 |
| Bjarni Tryggvason | | STS-85 |
| Dave Williams | | STS-90 |
| Julie Payette | | STS-96 |

The new stamps, which were designed by philatelic artist Pierre-Yves Pelletier, are being released to coincide with Stamp Collecting Month. Postal administrations, including Canada Post, use the month to further educate philatelists and entice new collectors into what is often described as the world's most popular hobby.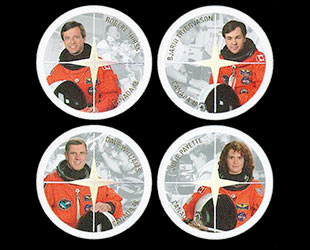 From top left: Bob Thirsk, Bjarni Tryggvason, Dave Williams and Julie Payette.
(Canada Post)
The stamps will be available at post offices across Canada on Oct. 1. Each circular self-adhesive stamp measures 40mm in diameter, and will be sold in sheets of eight. The postage stamps were printed by Lowe-Martin, using six-color lithography with gold and silver foil on Tullis Russell Coatings paper.

The Official First Day Cover will read "ST-HUBERT QC, home of the Canadian Space Agency."

Stamps and Official First Day covers will be available at participating post offices, can be purchased online through the Canada Post website, or can be ordered by mail order from the National Philatelic Centre.

© 2022 collectSPACE.com All rights reserved.


Feedback: Messages

Canadian Astronauts in space... and on stamps

Marc Garneau has a doctorate in electrical engineering. He became the first Canadian astronaut to fly in space on Shuttle Mission STS-41G in 1984. He flew two additional missions, in 1996 and 2000, and is currently President of the Canadian Space Agency.

Roberta Bondar, a medical doctor and Ph.D. in neurobiology, became the first Canadian woman astronaut and the world's first neurologist in space in 1992 on the International Microgravity Laboratory. She was elected to the Canadian Medical Hall of Fame for her pioneering space medical research.

Steve MacLean, with a Ph.D. in physics, conducted several experiments during his 1992 mission, including tests on the Canadian Space Vision System, a technology that he helped develop to assist in the operation of Canadarm and Canadarm2.

Chris Hadfield, an engineer and a test pilot, is the only Canadian to have visited the Russian space station Mir in 1995. He became the first Canadian to perform a spacewalk in 2001 during the installation of Canadarm2 on the International Space Station.

Robert Thirsk is an engineer and a doctor of medicine. He and his crewmates performed experiments devoted to the study of microgravity and life sciences in the shuttle's Spacelab module. His 1996 mission lasted 17 days, the longest for a Canadian astronaut.

Bjarni Tryggvason has a degree in engineering physics with a specialization in applied mathematics. In 1997 he conducted a series of tests in space on the Canadian Microgravity Vibration Mount, an instrument which he designed to counter the effects of spacecraft vibrations on fluid science experiments.

Dave Williams has done research in neurophysiology and is an emergency physician. In 1998 he participated in Neurolab, a complex life science mission to study the effects of microgravity on the nervous system. He is the first Canadian to have lived and worked in both orbiting and undersea laboratories.

Julie Payette is an electrical engineer with a master's degree in computer engineering. During a ten-day mission in 1999, she operated the Canadarm while in orbit and became the first Canadian to board the International Space Station. She is currently Chief Astronaut for the Canadian Space Agency.