collectSPACE Admin
Administrator

Posts: 481
From: Houston, TX, USA
Registered: Nov 1999

posted 02-19-2007 02:56 AM




---
On February 23, The Astronaut Farmer opens in movie theaters, just three days after the 45th anniversary of the first manned launch of the rocket depicted in the film, the Mercury-Atlas.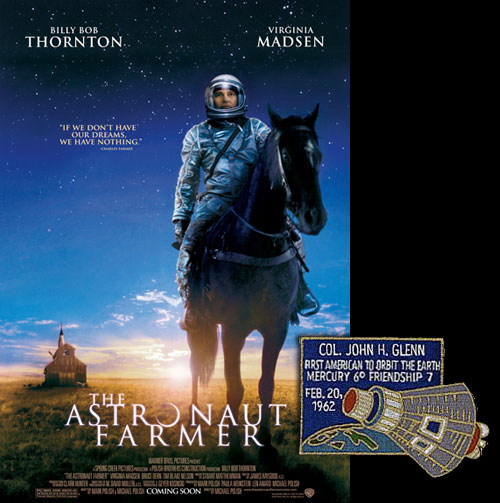 To celebrate both, collectSPACE and Warner Bros. Pictures are giving away 10 prize packages that include movie and mission memorabilia:
36x24-inch official poster from The Astronaut Farmer
Friendship 7 commemorative embroidered patch
To enter to win, correctly answer the following five trivia questions and e-mail the answers to challenge@collectspace.com before 11:59 p.m. CST February 23 (0559 GMT 24 February). All correct entries received will be entered in a drawing from which 10 winners will be selected. Please be sure to include your full name and mailing address with your entry. Limited to one entry per family.

Here are the questions (HINT! All the answers can be found on collectSPACE):
How tall (approximately, in feet) are The Astronaut Farmer's replica Mercury-Atlas and the real rocket used to launch John Glenn in 1962?

In addition to the rocket, what other piece of Mercury equipment did costume designer Danny Glicker work to recreate for The Astronaut Farmer?

In The Astronaut Farmer, Charles Farmer (Billy Bob Thornton) was a natural for NASA's astronaut training program and was well on his way when a family situation forced him to drop out and return home. What NASA astronaut in real life lost his chance at a Mercury mission and why?

After which Mercury astronaut is Farmer's son named?

In the movie, Farmer builds his rocket and operates his space program out of his ranch and barn in Story, Texas. Where was NASA's Project Mercury launched and where was its mission control?
REMEMBER, e-mail your answers to challenge@collectspace.com.

(Note about prize delivery: Movie posters will be shipped directly to winners by Warner Bros. Patches will be shipped by collectSPACE under separate parcel.)
collectSPACE Admin
Administrator

Posts: 481
From: Houston, TX, USA
Registered: Nov 1999

posted 02-26-2007 03:38 PM




---
Congratulations to our ten winners!
Robert Bowen

Colin Dwyer

Armando Fortuna

Marcy Frumker

Glenn R. Hann

Michael J Konowal

John Moscato

Doug Schneider

Kim Spildrejorde

Mike Zolotorow
The correct answers to our contest were as follows:
Farmer's rocket was approx. 50 ft.; the real Mercury-Atlas was 95 ft.

The replica Mercury (silver) spacesuit

Donald "Deke" Slayton, due to a heart condition

Alan B. Shepard, Jr.

Cape Canaveral, Florida