Astronaut Farmer features Mercury rocket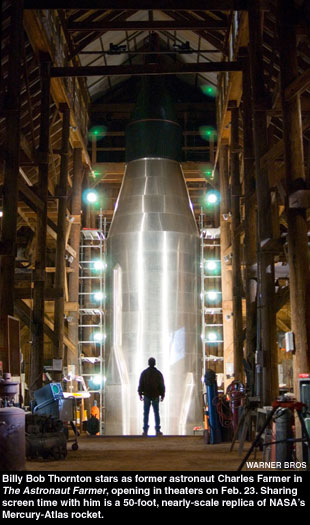 January 31, 2007 — In the upcoming Warner Brothers' feature film The Astronaut Farmer, Billy Bob Thornton plays the role of Charles Farmer, a former astronaut who never flew in space but who decides to accomplish his dream of reaching orbit by building his own rocket. To do so, Farmer draws from designs of the past, basing "The Dreamer," his spacecraft, on the historic Mercury-Atlas that carried the first Americans to orbit in the 1960s. The Astronaut Farmer opens in theaters 45 years (plus three days) after astronaut John Glenn rode his Mercury-Atlas into U.S. history.

Personally inspired and fascinated by the 1960s space race, independent filmmakers Mark and Michael Polish gave their hero a similar passion. "Charles Farmer is a guy who watched the first man step foot on the moon and that was probably the single most dramatic moment of his childhood," suggested Mark Polish, who co-wrote and was a producer on the film.

Added Michael, his brother, "The story was sparked by our interest in space exploration, but beyond that, it's about a need to dream of adventures, whether it's Neil Armstrong or Lewis and Clark. I think that, as a society, we've stopped dreaming about exploration. With space being the contemporary frontier, we got to thinking how would a common person do this?"

Rocket man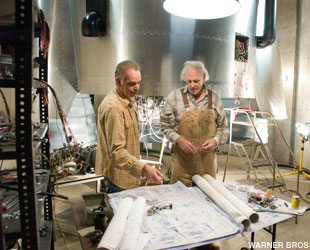 Outside the constructs of the film's plot, it was important to production designer Clark Hunter to accurately rebuild the space hardware used in The Astronaut Farmer.

It was imperative that the rocket be built as nearly to scale as possible, "based on research and drawings of the Atlas-Mercury rockets and capsules, which are still very recognizable to many people," said Hunter. "For the skin, we used a company that makes skins for 747s. We built it in sections, then stacked them up and fastened them together."

Not only is the vintage design appropriate for the story's timeline, it has become an iconic image.

As Michael Polish explains, "That was the era when everyone was getting interested in the space program for the first time, and that was its primary image. Plus, from Farmer's point of view, it's easier to build a rocket like this than to build the Space Shuttle. If someone wanted to build a car for the first time he would go back to a simpler way of doing it, back to the original Ford design and the combustion engine."

"[Farmer] goes to great lengths to build a replica, based on the Atlas-Mercury model," Michael continued, noting that Farmer is dedicated to, quite literally, the nuts and bolts of his dream."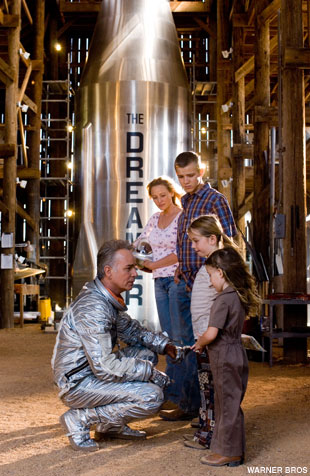 The companion piece to the rocket was Farmer's mission control, containing all the apparatus that his son Shepard (named after the first astronaut, Alan Shepard) would use to help launch and then monitor the spacecraft's orbit.

"It was an old Air Stream trailer. Inside we packed in a lot of vintage gadgetry and 1960s technology intermixed with modern computer equipment in a kind of Rube Goldberg design, which is what it might realistically look like if he had collected and integrated everything in bits and pieces over the years," said Hunter.

In addition to the rocket and control room, Hunter raised a new barn big enough to accommodate a 50-foot rocket, with roof panels that could be folded open in preparation for launch.

"When I first saw the rocket in the barn, finished and assembled, I was very impressed," said actor Billy Bob Thornton.

Have spacesuit, will travel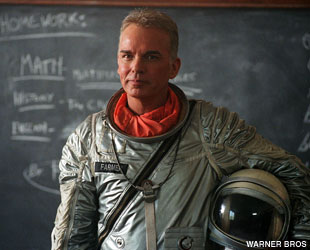 When Charles Farmer isn't in standard work clothes, tending to his ranch or, more likely, hammering or welding the finishing touches to the rocket in his barn, he occasionally dons his old spacesuit for inspiration or to wow the kids on Career Day at his daughter's school.

But it's not just any old spacesuit, as costume designer Danny Glicker explained.

"It's a detailed replica of the 1960s-era suit used for the Mercury missions. It's important to the story that Farmer's suit evokes a more innocent and exciting time in American history when space travel played significantly in the public's imagination," he said. "All its elements — the silver material, the globe helmet, the charmingly low tech items like laces on the gloves — recall the romance of space travel."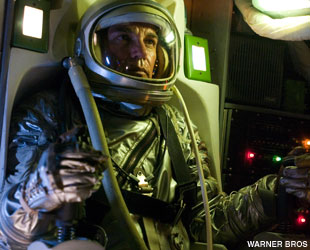 Although mercifully lighter than an authentic space suit, the garment's challenge was in its "unconventional access," noted the designer. "A full-body sideways zipper forces the wearer to contort into highly unusual poses in order to get the thing on and off. It was a time-consuming process at first, but, by the end of the shoot, Billy Bob was a pro and could make the change in seconds flat."

Behind the movie: the true Mercury

On February 20, 1962, John Glenn launched on Mercury Atlas 6, the United States' first orbital space flight. Three of his fellow 'Original 7' Mercury astronauts would also ride the Atlas to space, culminating in Gordon Cooper's Mercury 9 flight in May 1963.

A modified intercontinental ballistic missile, the real Atlas stood 95 feet tall with its Mercury spacecraft and escape tower. It differed from other ICBMs and rockets due to its structure-supporting pressurized fuel tanks and attached "stage-and-a-half" boosters. A total of nine Mercury-Atlas rockets launched, five unmanned, of which two failed.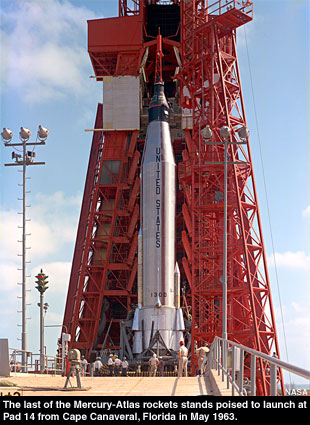 Mercury was America's first manned spacecraft. Barely large enough to fit one astronaut, it was often said that its pilot didn't get inside but rather wore the capsule. Conical in shape, its blunt end was covered by a heat shield for reentry into the Earth's atmosphere. Six men rode inside Mercury capsules to space, including Alan Shepard and Gus Grissom on sub-orbital missions.

The Mercury spacesuit was modified from a high-altitude pressure suit used by the U.S. Navy and designed by the B.F. Goodrich Company. Its trademark silver outer layer was made of aluminized nylon. Worn unpressurized, each suit was custom-fitted to its intended wearer.

The Astronaut Farmer opens in theaters on February 23.

© 2021 collectSPACE.com All rights reserved.
Questions? E-mail contact@collectspace.com