Robert Pearlman
Editor

Posts: 43653
From: Houston, TX
Registered: Nov 1999

posted 01-16-2017 08:48 AM




---
China has revealed a shortlist of names and logos submitted for its first mission to Mars, set to launch an orbiter, lander and rover in 2020, with the public set to vote for the winners, reports gbtimes.
The eight names, many coming from Chinese mythology, are: Fenghuang (phoenix [凤凰]), Tianwen (study of heaven [天问]), Huoxing (Mars [火星]), Tenglong (flying dragon [腾龙]), Qilin (a mythical chimerical creature [麒麟]), Zhuque (a mythical bird [朱雀]), Zhuimeng ("chasing dreams" [追梦]) and Fengxiang (flying phoenix [凤翔]).

Many of the eight logos focus on the character "火," which means fire and forms part of the Chinese name for Mars, "火星," literally "fire star," with the name due to the planet's color.

Some also draw on the "Starfleet-esque" logo for Chinese aerospace, with some entries combining this with the above character.

On Friday (Jan. 20, 2017) the lists will be available on Xinhuanet and QQ.com for public online voting, with the final result to be published around April 24, which will mark China's second "Space Day."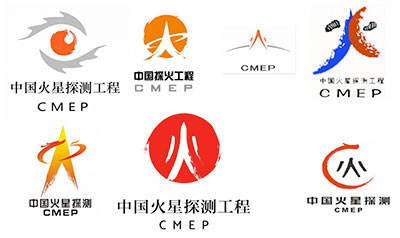 Robert Pearlman
Editor

Posts: 43653
From: Houston, TX
Registered: Nov 1999

posted 04-24-2020 12:00 AM




---
collectSPACE
China reveals name, logo for its 'Tianwen' first Mars landing mission

China revealed the name and logo for its first mission aimed at landing on the planet Mars to mark the 50th anniversary of its first satellite launch.

Celebrating the country's Space Day on Friday (April 24), the China National Space Administration (CNSA) announced that its upcoming robotic mission to the Red Planet will be named "Tianwen-1." The name, borrowed from an ancient Chinese verse by poet Qu Yuan, translates to "questions about the heavens."