hoorenz
Member

Posts: 1035
From: The Netherlands
Registered: Jan 2003

posted 10-26-2013 11:56 AM




---
Early next year, the Russian flag that is being worn aboard the International Space Station, will change to the version shown below. It will include the double headed Russian eagle.

Cosmonauts Aleksandr Skvortsov and Oleg Artemyev will be the first to fly with the new flag on their Kentavr-Nauka produced suits. The new flag patches are being produced in Russia.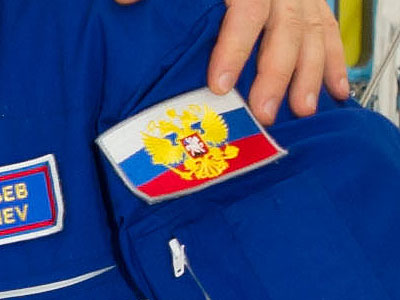 Robert Pearlman
Editor

Posts: 46040
From: Houston, TX
Registered: Nov 1999

posted 10-26-2013 12:10 PM




---
According to the Kremlin's website, this is the Standard (Flag) of the President of the Russian Federation, as first adopted in 1994.

Any idea why they are switching to the flag of the president rather than continuing to use the State Flag of Russia, which apparently remains the tricolor design?
hoorenz
Member

Posts: 1035
From: The Netherlands
Registered: Jan 2003

posted 10-27-2013 02:05 AM




---
I think it is simply meant as a combination of the Russian flag and the Russian state seal (remember how Soviet cosmonauts were wearing their state seal for two decades). The presidential standard also happens to combine these two elements, but is square.
dcfowler1
Member

Posts: 105
From: Eugene, OR
Registered: May 2006

posted 10-27-2013 08:34 PM




---
If it is square, it is the Presidential flag; If it is rectangular, it is the flag of the commander-in-chief of the Russian armed forces.

So, based on this image, this flag is the latter.

It is true that in many nations, there are multiple national flags; a plain one would be the civil national flag, used by citizens, and a flag with the addition of the coat of arms would be the state flag, used by the government.

This would be a decent explanation, except that I don't believe that there is any provision for this in Russian Federation law.