spaced out
Member

Posts: 2779
From: Paris, France
Registered: Aug 2003

posted 06-25-2013 06:37 AM




---
I've updated my CrewPatches website with a couple of interesting discoveries made by Robert Yowell - two vintage oversize patches that I've not seen before.

One is a Hilborn Hamburger 5" Apollo-Soyuz patch:
The other is an interesting 5" Apollo 14 mission patch that was affixed to a GEMSCO display card.
The size and lack of crew names reminds me strongly of the Apollo 16 patch below which I'd previously suspected of being by Hilborn Hamburger. It seems more likely now that this was actually by GEMSCO.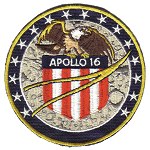 I guess now we're looking for a 5" Apollo 15 mission patch with no crew names. Anyone seen one of those?
Gonzo
Member

Posts: 523
From: Lansing, MI, USA
Registered: Mar 2012

posted 06-25-2013 07:33 AM




---
Interesting find, Chris.

The ASTP patch is interesting in that, while it does have crew names, the boxes with stars is modeled after the crew patch in that they do not extend to the red border.

Due to the scarcity of these, may I suggest that they were made for NASA as larger examples to be used on displays? I ask that because they are all very closely made to match the crew patches, yet most don't have crew names. Suggesting to me that they may have been looked at more as generic emblems for the mission.