Robert Pearlman
Editor

Posts: 32226
From: Houston, TX
Registered: Nov 1999

posted 06-29-2012 05:05 PM




---
NASA's Super Guppy cargo plane is the last in a line of Guppy aircraft still flying after 50 years of service.

I recently had the chance to fly aboard the Super Guppy, giving me a new found admiration for the aircraft and its flight crew.

The crew, which includes two pilots, two flight engineers and three mechanics and loadmasters, wear the same patch that is attached to one of the steps used to enter the aircraft: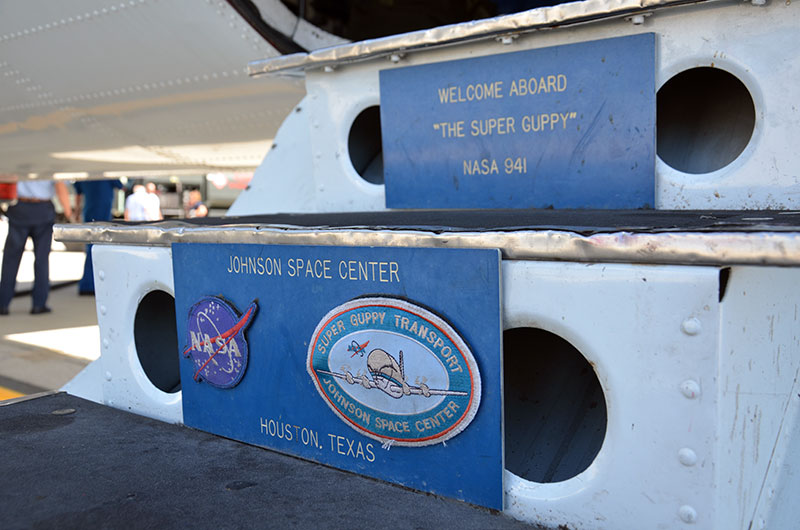 During the flight, veteran NASA pilot Dick Clark gifted me with a new patch marking the Guppy's 50 year history: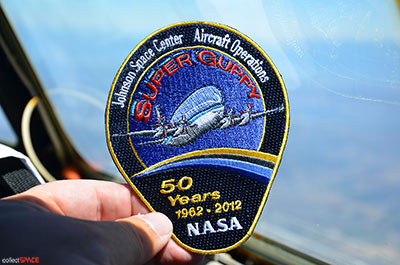 To the best of my knowledge, neither patch is for sale, though what appears to be a set of two (replica/fake) patches was offered by Aurora Auctions in 2007.
PeterO
Member

Posts: 267
From: Rochester, NH
Registered: Mar 2002

posted 06-29-2012 06:41 PM




---
I really like the design of the new patch, with the patch in the shape of the Guppy's cross section.

I wonder if someone could convince NASA to have it manufactured for collectors? I'd buy one to display with my 1/144 scale model.

GoesTo11
Member

Posts: 1203
From: Denver, CO USA
Registered: Jun 2004

posted 06-29-2012 09:09 PM




---
Oh, so the Super Guppy crews still get to use the exalted Meatball Font for "NASA," but the SCA patch has to be switched to Verdana?

Seriously though, nice patch. Please do let us know if it becomes available for purchase.