dtemple
Member

Posts: 608
From: Longview, Texas, USA
Registered: Apr 2000

posted 05-09-2014 05:22 PM




---
Here's an early Saturn I model owned by the Smithsonian and here is an unusual Saturn IB model also owned by the Smithsonian.
mikej
Member

Posts: 399
From: Germantown, WI USA
Registered: Jan 2004

posted 05-13-2014 06:20 PM




---
It's a little hard to tell from the photo on the Smithsonian website, but the Saturn IB model was assembled with two service modules.

After my most recent visit to the Udvar-Hazy Center (in 2011), I emailed a contact at the museum, to which he replied
I knew about the two Service Modules, but the priority to fix that is so low that it never gets on anyone's to-do list. I will see if I can bump it up. It always bothered me from the day the exhibit opened!
The Saturn I model is just an early version of the Saturn; there were numerous early concepts with "stretched" upper stages. Take a look at the Saturn Illustrated Chronology, which has many such concepts. The "Saturn C-1" in Figure 12 seems to be a fairly close match to the model.

Note that the S-I stage on the Saturn I has eight Recuit solid-fuel rockets, which part of a proposed first-stage recovery system (similar to this concept):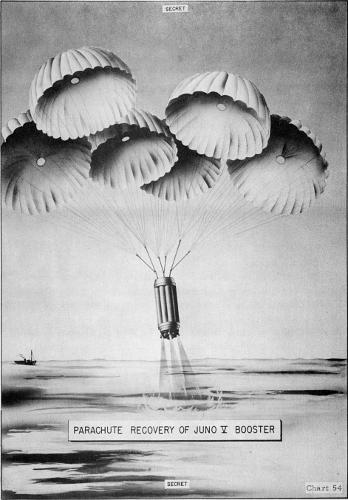 I have some other drawings of the S-I stage with recovery equipment (similar to the Smithsonian model) on my Website.
dtemple
Member

Posts: 608
From: Longview, Texas, USA
Registered: Apr 2000

posted 05-17-2014 11:16 AM




---
Thanks for the explanations. Great website!