Robert Pearlman
Editor

Posts: 27327
From: Houston, TX
Registered: Nov 1999

posted 02-11-2013 02:55 PM




---
The Wall Street Journal profiles Papa Foxtrot's line of satellite and spacecraft wooden desktop models.
There are currently 1,154 active satellites orbiting the Earth. Of these, five have been miniaturized by the design-oriented toy company Papafoxtrot and brought to a decidedly lower atmosphere — a few inches above your desk.

The model satellites in the series are made of common woods — maple and ash — with mock solar panels and other shiny parts in aluminum. The toys are quick to assemble and reflect the broad range of tasks that satellites carry out these days.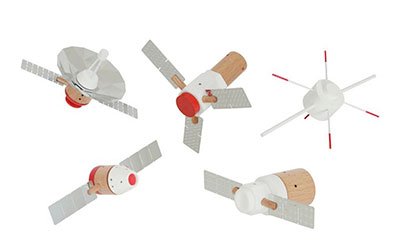 The series currently includes five satellite (and spacecraft) models:

In the United States, they are available for order from Toytoise.com for $30 each.
robert_l
Member

Posts: 95
From: Dundee,Scotland
Registered: Jul 2008

posted 02-12-2013 02:41 PM




---
Have just ordered the Dragon model! Thanks for posting this, they look brilliant.

Glint
Member

Posts: 747
From: New Windsor, Maryland USA
Registered: Jan 2004

posted 02-12-2013 03:29 PM




---
Wow! I've got to get one of those Geotail models. I haven't thought of it in years. It was an interesting mission -- particularly its orbit.

It traveled in a figure-8 between the earth and moon. The orbits would alternate passing on the trailing and leading edges of the moon whose gravitational attraction would cause it to speed up and slow down, respectively -- if I recall correctly.

That is, passing behind the moon tugged it forward causing it to speed up. Passing in front of the moon would slow it down.

Did a little work for Geotail's science program in the early 1990s. Investigators at Johns Hopkins decided they would like to view the data in real-time instead of waiting for the tapes to be shipped over from ISAS in Japan. So I set up a remote data feed on short notice in order to accomodate.