Robert Pearlman
Editor

Posts: 27327
From: Houston, TX
Registered: Nov 1999

posted 02-16-2004 07:34 AM




---
The American International Toy Fair, which runs through Wednesday, brings more than 1,500 manufacturers, distributors, importers and sales agents from 30 countries to New York City to exhibit their new toys and on-going product lines.

Found among the many aisles of booths inside the Jacob K. Javits Convention Center are a handful of debuting space exploration toys:

Booth 442 - Takara USA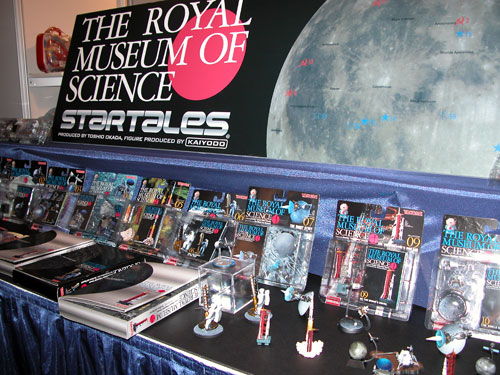 Originally introduced in Japan last year as hidden toys packaged with bubble gum, the Royal Museum of Science StarTales are coming to the U.S. market (though a street date has yet to be announced).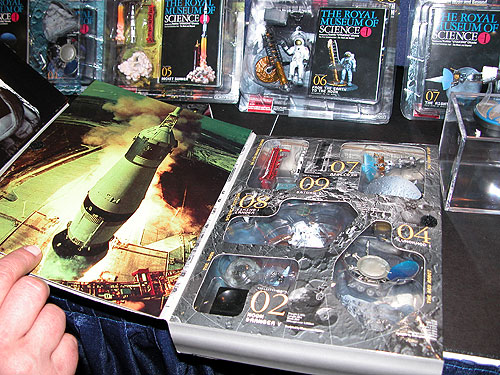 In addition to individual blister packs (with clear windows so consumers may pick and choose among the models they desire, Takara will also introduce two gift boxes of five models each.
Booth 1913 - Action Products International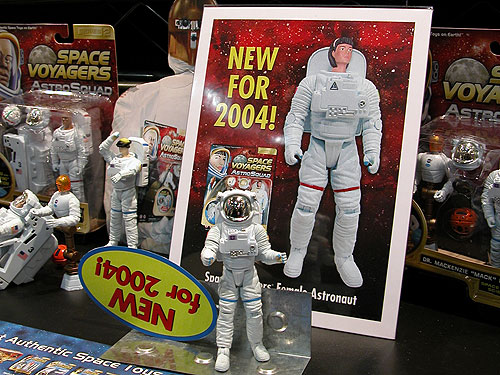 By popular demand, Action Products' long-awaited female astronaut figure, Shuttle Payload Specialist Amy Taylor features over 15 points of articulation and authentic accessories. The bottom of her boots will be magnetized, allowing her to be suspended upside down or on the walls of future playsets or on your kitchen's refrigerator door. (Prototype mock-up is pictured).
Booth 5527 - Dragon Models USA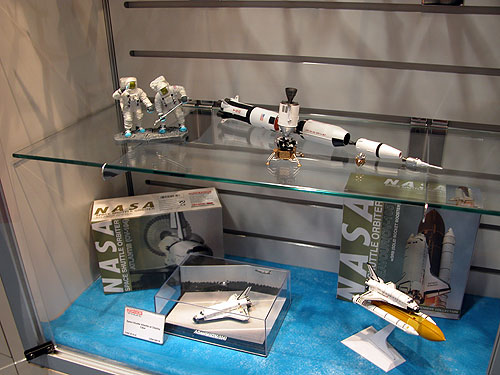 On display were Dragon's recently released Can.Do miniatures including their Saturn V and duo of Apollo moonwalkers. Also new to their line are models of the Space Shuttle Atlantis landing and the Space Shuttle Endeavour with Solid Rocket Boosters (SRBs) and External Tank (ET).
Booth 6417 - Odyssey Toys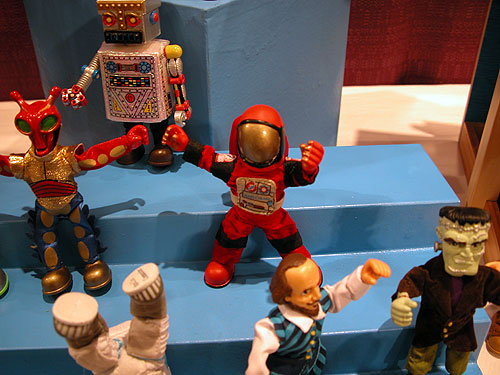 New to their popular line of Scapes wooden playsets and posable play figures is "Stan the Man from Mars", an astronaut geared in a red spacesuit and ready to explore the surface of the Red Planet.
John K. Rochester
Member

Posts: 1273
From: Rochester, NY, USA
Registered: Mar 2002

posted 02-16-2004 01:33 PM




---
.. I'm glad I didnt buy the Royals off of e-bay at inflated proces...Robert, are the Dragon models available at any toy retailers? Do you know..
lewarren
Member

Posts: 269
From: Houston, TX, USA
Registered: Aug 2001

posted 02-16-2004 03:14 PM




---
I have never seen Dragon models at retail stores, but I have bought them off ebay. The die-cast space shuttle models are pretty nice in my opinion.

Liz
James Brown
Member

Posts: 1213
From: Atlanta, Georgia, USA
Registered: Jun 2000

posted 02-16-2004 06:07 PM




---
John,

The shuttle models can be found at: www.airplane-world.addr.com

James
Robert Pearlman
Editor

Posts: 27327
From: Houston, TX
Registered: Nov 1999

posted 02-16-2004 10:49 PM




---
buySPACE carries Dragon's full line of products.

The Can.Do figures are available for order now, here:
http://www.collectspace.com/buyspace/collectibles.html

The Space Shuttles are also available, here:
http://www.collectspace.com/buyspace/collectibles.html#shuttles

[This message has been edited by Robert Pearlman (edited February 20, 2004).]