413 is in
Member

Posts: 430
From: Alexandria, VA USA
Registered: May 2006

posted 09-10-2013 04:35 PM




---
Wanted to throw this out there for any collectSPACE member who currently owns one of the Mercury era rectangular laminated star charts from the collection of Gene Kranz as originally offered on the Farthest Reaches website. I've got two of them and I believe there are still some listed for sale on the site.

While organizing my autograph collection I came across a small booklet that was published by NASA summarizing Gordon Cooper's MA-9 flight. I haven't looked inside the booklet in years and was surprised to see a photo of one of these charts that was flown by Cooper on his mission.

The star chart (labeled #9) and the cover of the booklet can be seen below.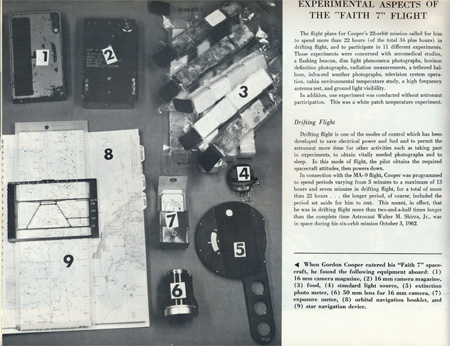 The chart is described on Farthest Reaches as follows:
This star chart is a part of a full set of charts used by Mercury Astronauts assigned to Remote Tracking Stations. By using the correct star chart and a clear overlay (not included) in the shape of a spacecraft window, they were able to see the same view being seen by the orbiting astronaut from his capsule window.
I thought it was interesting to see the chart as well as the overlay that was utilized along with it. Email me if interested in larger scans of the chart.
music_space
Member

Posts: 1075
From: Canada
Registered: Jul 2001

posted 09-12-2013 11:18 PM




---
I did acquire one of these charts. It has become one of the most interest-fetching items in presentations. I'd really appreciate hd scans of the pictures, and of portions of the text eventually referring to the chart. Thanks in advance.

francois_guay on hotmail.com

------------------
Francois Guay
Collector of literature, notebooks, equipment and memories!
413 is in
Member

Posts: 430
From: Alexandria, VA USA
Registered: May 2006

posted 09-13-2013 12:15 PM




---
You've got mail, Francois.