Whizzospace
Member

Posts: 106
From: San Antonio, TX
Registered: Jan 2006

posted 05-25-2013 06:12 AM




---
Around 1999 I picked up a more unusual item, an Offal Waste System, commonly called a space potty bag. It had been packed away for many years, but I found it and decided to take it to SpaceFest V in Tucson, AZ, to see the crews' reactions. None of the Apollo and Skylab veterans could recollect anyone asking them to sign this type of relic before! They all laughed and had a story about using or "centering" the device for use, since we all know the "going to the bathroom in space" question is one they are constantly asked.

The NASA handling tag indicates the bag came from the contractor to the Cape in autumn 1973, suggesting it was a Skylab piece. It is apparently an inventory item, and there is no record it flew or was manifested for a specific mission. Skylab vets Jack Lousma, Ed Gibson and Al Bean examined the tag, suggesting it was a backup to the Skylab main waste management compartment, as theirs' was first US spacecraft to have a real toilet on board.

Only Dick Gordon jokingly offered to demonstrate the procedure for use - on someone else!

The green crescent at the top is the folded circular adhesive opening. The activated charcoal odor control element has dissolved into dark dust, leading Jim McDivitt to ask if the bag was a "virgin," or had been used?!

Here is Al Bean "holding the bag."
ilbasso
Member

Posts: 1501
From: Greensboro, NC USA
Registered: Feb 2006

posted 05-25-2013 02:41 PM




---
I took something similar to a signing for Dick Gordon to see. It was the brown paper bag which had been used to deliver Dick's fecal specimen to the microbiology section at the Lunar Receiving Lab just before the Apollo 12 mission. Dick had written on it at the time: "One small bolus for Dick, one giant feces for Micro. Best wishes, Dick"

I showed it to Dick and he "denied" that he would EVER do such a thing... although he did admit that it was his handwriting...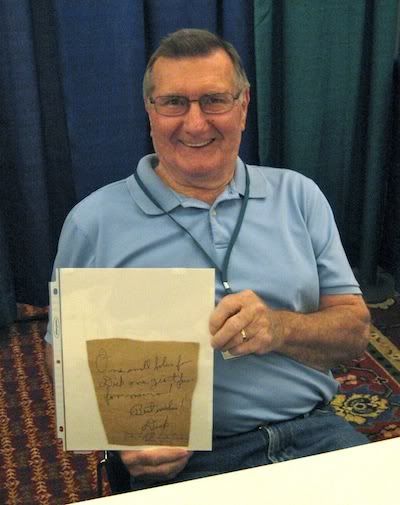 Whizzospace
Member

Posts: 106
From: San Antonio, TX
Registered: Jan 2006

posted 05-28-2013 06:32 PM




---
That's classic, thanks for sharing. I guess Dick Gordon is destined to keep a certain special ownership of the space potty jokes!