Robert Pearlman
Editor

Posts: 30714
From: Houston, TX
Registered: Nov 1999

posted 10-22-2009 06:26 AM




---
collectSPACE:
Amelia Earhart's scarf flying to space with her photographer's astronaut grandson

Famed aviator Amelia Earhart's personal photographer had originally been slated to accompany her on her 1937 attempt to become the first female pilot to fly around the world. Instead, Albert Bresnik's photographs would be among the last taken of Earhart before her disappearance over the Pacific Ocean. Bresnik's astronaut grandson has chosen to pay tribute to his grandfather in a way that also honors Earhart's legacy.
Robert Pearlman
Editor

Posts: 30714
From: Houston, TX
Registered: Nov 1999

posted 10-22-2009 11:12 PM




---
Per the above referenced article:
The Ninety-Nines have at least one other of Earhart's worn scarves and it too has been carried into space. The first American woman to pilot and command the space shuttle, Eileen Collins, flew that scarf on her first mission in 1995.
According to Carolyn Smith, chairman of the Ninety-Nines' Board of Trustees for the museum, the scarf is now on display at the Earhart Birthplace Museum in Atchison, Kansas.

This photograph of Eileen Collins with the scarf she flew is courtesy Marcy Frumker who researched the scarf for "Flight to Fame: The Life & Legacy of Amelia Earhart," and exhibit at the International Women's Air & Space Museum.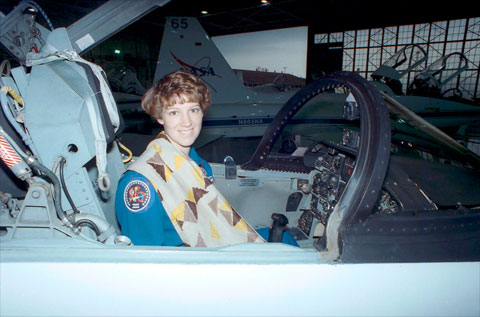 Click above to enlarge. Credit: IWASM/NASA
Robert Pearlman
Editor

Posts: 30714
From: Houston, TX
Registered: Nov 1999

posted 10-23-2009 12:23 AM




---
From the article:
And a watch that Earhart wore is slated to launch to the space station with astronaut Shannon Walker in the spring of 2010.
On Thursday, October 22, Ninety-Nines Director Joan Kerwin presented a wristwatch worn by Amelia Earhart to NASA astronaut and Ninety-Nines member Shannon Walker at Ellington Field in Houston, Texas.

"Amelia crossed the Atlantic twice, once as a passenger and once as the pilot in command, flying solo, and she wore this watch both times," described Kerwin to collectSPACE. "Now, I am sending 'her' up in space."

"I am very honored to take this watch," replied Walker, "because to me it represents the continuation of women in aviation and the field of aviation and how we continue to push boundaries and farther than ever before."

Walker will take receipt of the watch onboard the space station after she launches on a Soyuz and it lifts off aboard a space shuttle next spring.

Although the watch still runs, Walker won't use it to keep time but will keep it with her during the flight.

Click on photos to enlarge.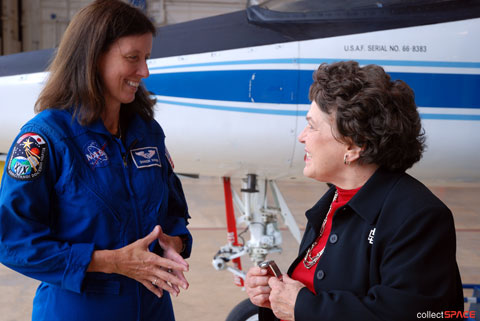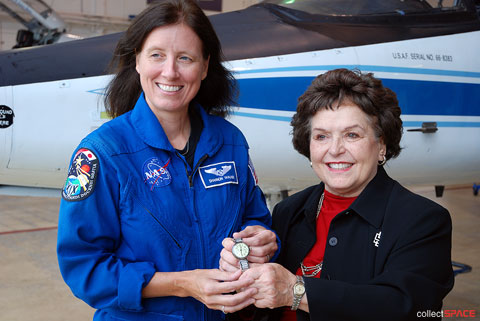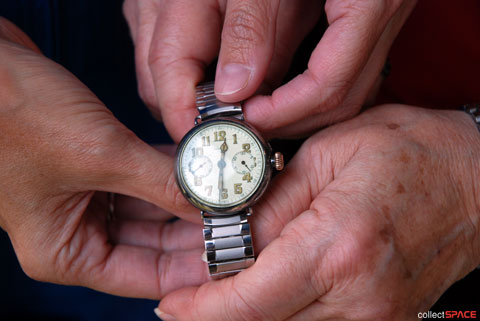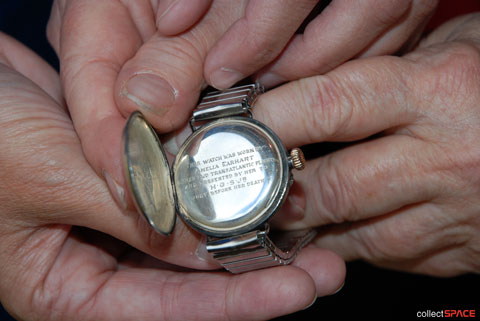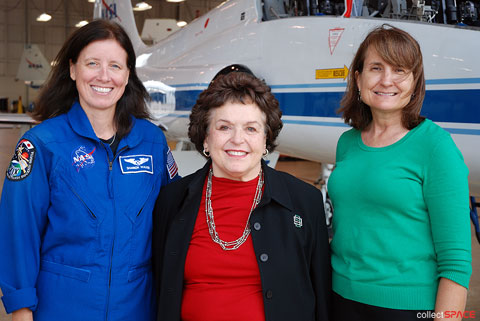 Credit: collectSPACE/Robert Pearlman
Ninety-Nines astronaut members Shannon Walker (left) and Linda Godwin (right) with Director Joan Kerwin.