Robert Pearlman
Editor

Posts: 30714
From: Houston, TX
Registered: Nov 1999

posted 10-12-2007 01:54 AM




---
From Air & Space Smithsonian:
The Astronaut Jeweler by Rick Hauck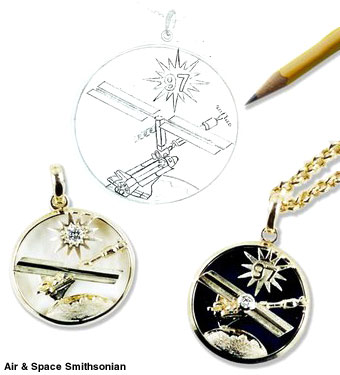 quote:

---

I had always admired Paul's beautiful jewelry, which I'd seen worn by his wife, Mercy, and other mutual friends. But as a Lieutenant Commander with a wife and two children, I didn't have the resources to be a buyer. That had changed by 1982, when I called him at his shop in the California Jewelry Mart in Los Angeles to ask if he could design a pendant for my wife based on the crew patch for STS-7, my first shuttle flight.

...

I mentioned Paul's work to several astronaut colleagues, including Dick Truly and Dan Brandenstein, commander and pilot of the STS-8 mission. Both of them commissioned Paul to create pieces of jewelry for their wives. So began something of a tradition for astronauts. As of the shuttle's 117th flight last December, more than 1,500 items designed by Dimitriu have gone into space on more than 100 flights.

---
Read Hauck's The Astronaut Jeweler on Air & Space Smithsonian's website.
Wehaveliftoff
Member

Posts: 735
From:
Registered: Aug 2001

posted 10-12-2007 11:40 AM




---
If this isn't the nicest story I've read on cS, it's certainly among the very best.

Great story, for the wives and the artist!
thump
Member

Posts: 568
From: washington dc usa
Registered: May 2004

posted 10-15-2007 01:03 PM




---
I believe that when I saw Ellen Ochoa a couple of weeks ago, she was wearing a pendant with the STS-110 logo on her necklace...