dcselinacz
New Member

Posts: 2
From: NJ
Registered: May 2013

posted 06-22-2013 11:42 AM



---
Looking to get some help with this. I found this medallion when I was a kid playing with a metal detector in my backyard.

I did some googling and it APPEARS to be an Affer Apollo 8 Medallion. However, there's one strange difference here: it has two extra weird stamps on the back. A "2" and a "4". Hoping someone may have some input on this.

From what I've seen, the Affers are supposed to be sterling silver, and the one I have, doesn't appear to be sterling silver, however it was buried for how many decades, it could be. Love to hear some thoughts.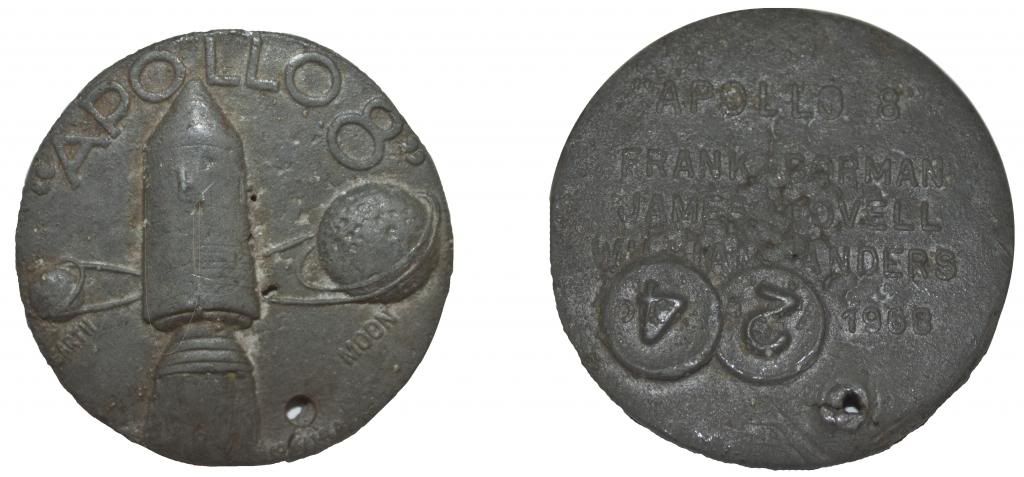 dcselinacz
New Member

Posts: 2
From: NJ
Registered: May 2013

posted 09-05-2013 12:24 PM



---
Wow, I was really hoping someone on here had some sort of input. Guess not. Thanks anyway.
JBoe
Member

Posts: 63
From: Edgewater, MD, USA
Registered: Oct 2012

posted 09-09-2013 10:20 AM



---
I'm not an expert, but I thought I would throw this out there. I've seen the similar medallion that gave the dates of Apollo 8 (21-27 XII 1968 - 21-27 December 1968) on the reverse with the astronauts onboard. Could the "24" be the date (24 December 1968) for when the crew read a chapter in Gensis during one of the six telecasts while in lunar orbit? This is just a theory and I'm not sure if there was a specific medallion with the same design to commemorate the "first translunar injection."