Space History News
space history and collectibles feature articles

Messages
discussion forums about space history and collecting

Sightings
calendar of worldwide astronaut appearances

Resources
collecting guides and selected space history documents

Websites
related space memorabilia and history websites



Relics Revisited

With the release of a new edition of Relics of the Space Race, Russ Still has authored a significant addition to an already invaluable reference for space history collectors.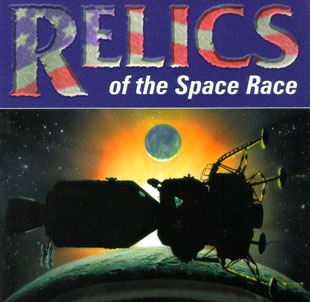 For those still not familiar, Still's Relics is half historical reference, half collectors' guide.

The third edition expands Relics an additional 50 pages, providing a wealth of new and updated information.

Still's narrative history of the U.S. and Soviet/Russian programs further the histories of the Mir and International space stations, as well as the X-33 Venturestar and the ocean recovery of astronaut Grissom's Mercury capsule.

Some of these additions serve to outdate the book — mention of a yet-to-be-deorbited Mir and a planned X-33 launch serve to illustrate the pace of space exploration.

Though Still's look at the past 40 years of space flight serves as a valuable reference and offers context for the chapters that follow, it is the second half of Relics that sets this book apart from other histories. The majority of new pages are appropriately dedicated to expanding the collecting guide.

Unlike other "how to" books, which are often read once, absorbed and shelved, the content chosen for Relics is meant to be referenced regularly. Organized by category, Still provides an easy-to-use format for both the novice and experienced collector, assisting collectors transition from the earlier to the latter.

For this revision, Still added to his autographs, patches and medallion-focused chapters.

The second edition of Relics included examples of both authentic and machine-generated autographs for many of the early astronauts. In the third edition, Still has found even more autopen patterns including new examples for Alan Shepard, Neil Armstrong and for Gemini and Apollo astronaut Thomas Stafford, who was omitted from earlier releases.

In addition to autopens, Relics shares multiple examples of Armstrong's forged signature that were culled from the online auctions that inspired their forgery. The book also has authentic autographs by which to offer a comparison.

Nineteen of the 50 new pages discuss autographs, while 13 pages are added to the discussion of "NASA Patches and Emblems."

Where previous editions made mention of "Cooper" or astronaut-designed patches, Relics can now be thought as a leading source on the subject. Manufacturers and details for each pre-shuttle patch, as well as a gallery of rarer examples — including the location of each of the "hallmarked" Apollo and Skylab emblems — are new to the third revision.

To a somewhat lesser extent than the autographs and patches chapters, the "Flown Currency" and "Coins and Medallions" sections have also been updated. Imagery and descriptions are provided for the medallions issued since the previous edition was published.

Of minor disappointment is the continued lack of content related to flown hardware, equipment, and collectibles. While the two numismatic chapters, as well as a chapter on cachets provide some of this information, the missing mention of flown flags, kapton fragments, and the like — items that are well documented elsewhere — is begging for inclusion.

Relics concludes as it has in past versions with a series of very useful appendices. Charts detailing the flights of U.S. astronauts, Russian cosmonauts and a catalog of U.S. space related postal stamps have all been updated. A listing of astronaut authored books has been replaced by an expanded directory for space memorabilia dealers.


---

If you do not already own a previous version of Relics of the Space Race, then the choice should be obvious: buy this book now.

If you only own the initial release, you are in need of this update. The step between the first and second editions was far greater than the differences between second and third.

Collectors with a second edition copy need to decide if the updated information will be applicable to their hobby. If you are an autograph, patch or medallion collector than feel confident that this new edition will be of assistance.

© 2016 collectSPACE.com All rights reserved.
Questions? E-mail contact@collectspace.com