An Introduction to Collecting Patches by Eugene Dorr

Patches are one of the easiest collectibles to get started with: you can simply go out and start buying all kinds of patches; and yet, once you get started, it can be extremely challenging to track down those certain, specific patches you need to fill the holes in your collection.

They are easy to store and to display. The price of most patches is quite reasonable. They are colorful and attractive, making them pleasing to look at, and to show off to family and friends. And finally, most everyone can easily understand what it is that you are collecting -- even though they may not grasp the nuances of some of the more esoteric patches.

In short, they are to space collectibles what stamps are to the collecting hobby in general.

Getting Started

If you're a space buff, chances are good that you already have one or more souvenir patches. This can easily form the core of your nascent collection. But regardless of whether you have any or not, it will be instructive to take a few steps before beginning to collect more.

First, take a look at the patches that are available. Start with Jacques van Oene's and Erik van der Hoorn's spacepatches.info site. He has a pretty good collection, which consists primarily of mission patches. Next, surf over to Mary Wagner's Cargo Bay Emblems, and check out the quirky organization of her website's collection of patches. Finally, point your browser to Randy Hunt's Patches, Etc.. If you aren't blown away by the variety of patches you see at these sites, then this isn't the hobby for you.

By now you should have discovered two things: one, patches are created for just about everything conceivable: payloads, launchers, unmanned spacecraft, contractors, security forces, even individual space travelers. Second, there's no way you could ever collect all the patches that are made.

Narrowing the Field

So, the second step is to decide what kind of patches you are going to collect. If you're thinking that mission patches are too pedestrian, take a look at my site, Space Mission Patches. For the most part I confine my collecting to pre-Shuttle U.S. manned space mission patches. Disregarding the early flights that didn't have patches, that works out to 25 missions (9 Gemini, 12 Apollo, 3 Skylab, and Apollo/Soyuz) -- yet I have over 80 distinctly unique patches in my collection, and there are still patches I'm trying to get.

You could make it easy on yourself by collecting Shuttle mission patches -- except that some of the earlier patches are no longer quite so easy to come by. And then, there are a number of "unofficial" patches -- patches for missions that never got off the ground, patches for missions that had crew changes after the patch had been designed, and so on. (Jacques van Oene specializes in these "oddball" patches.) On the other hand, you could pick something really tough, like mission patches from Soviet and Russian manned flights (see Collecting Soviet Mission Patches, by Chris Smith, on this site).

There are people who are very serious about having only "genuine" patches in their collection. I assure you that even attempting to define what a "genuine" patch is will lead you down a long and torturous road. Then again, you could get really, really serious and try to acquire a complete collection of "flown" patches. (I suppose if you owned Microsoft that wouldn't be too outrageous.)

Starting Small

Next, you need to "seed" your collection. It's likely you can get a core set of whatever kind of patch you're collecting at The Space Store, Patches, Etc, Cargo Bay Emblems, or even a nearby science museum. This shouldn't be a particularly expensive proposition, and if it is then you can spread out the acquisitions over a period of time.

Once you have a few dozen patches in your collection, you're going to start wondering how to store them in some orderly way. A solution that works well for me is to use CD-ROM sleeves that are designed for 3-ring binders. It's easy to insert and remove patches; the pockets are big enough for almost every patch I have (only my LTA-8 patch is a problem); the patches are easily visible without removing them; and if you make a point of getting acid-free sleeves they provide good protection for the patches. I also keep an inventory of each patch in my collection, including distinguishing characteristics (some patches are very similar), who and where I acquired them from, the date acquired, and the price paid.

Thinking Big

By now you should have a good grounding in what to look for, and you hopefully know what you want. Finding what you want may not be so easy. This is where things start getting really interesting.

eBay can be a great place to pick up some interesting patches -- it's the only place I was able to find Lion Brothers patches, and the place where I got most of my beta-cloth patches. But you have to be patient, and check every couple of days for as long as you are actively collecting.

Another source to check out is Stewart Aviation, which is a British company. They don't have nearly as much on their web site as they have in their printed catalog, so it's worth investing in a couple of IRCs (international reply coupons) to get a copy.

Perhaps you even know someone who has some interesting patches: a couple of years ago I discovered that my wife's cousin, who lives in Colorado, had an Apollo 15 patch that was personally given to her by Apollo 15 LMP Jim Irwin. She is a dental technician and had worked on his teeth.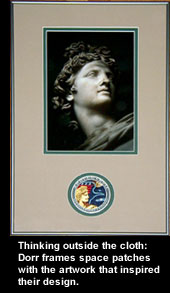 Once you're well started on your collection, there may be other aspects of the patches that you will find of interest. Some patch collectors try to get their patches autographed by the astronauts who flew the mission (beta cloth patches are much better for this than embroidered patches). Personally, I have a deep interest in the history and background of each patch design, which led in turn to my collecting artwork which was related to the patch designs, and framing the patch and artwork together.

Chances are good that even after a few years, there will still be at least a few elusive patches that you just haven't managed to bag. Of course, if you do manage to complete your collection, you can always pick another niche in the world of patches and start over.

Happy collecting. Oh, and by the way, if you ever see a good deal on a beta cloth SMEAT patch, let me know...